What to Consider When Buying a Garage Door
Your garage door is an essential part of your home; thus, you should find out what to consider when buying a garage door. A garage door offers security to your home and is also very vital in saving energy bills since it can contribute to your home's overall heating.
Most people also store certain items and equipment in their garage, and a well-secure garage door ensures that your stored items are well protected from rain and other adverse weather conditions.
Since garage doors play a significant role in your home security and heating capacity, you must consider several critical factors before buying a garage door.
What to Consider When Buying a Garage Door
Once you have made up your mind that you want to buy a garage door, the next step is to consider several factors that will enable you to buy the right type of garage door for your home.
Here is what to consider when buying a garage door:
1. The garage door style
Garage doors come in a variety of styles and designs. Aside from the security and other key features of a garage door, they also contribute to your home's aesthetic design and beauty. You have different garage door appearances to choose from. You can find garage doors with raised panels and traditional styles. Some garage doors are designed with glass panels that make them look more attractive.
There are also some garage doors with a carriage house style that looks similar to barn doors. Contemporary garage doors have trendy designs, while some have opaque glass designs at non-symmetrical sections. Modern garage doors are more expensive than traditional garage doors, but you can always find your preferred garage door style.
2. Material of construction
The type of material used in constructing your garage door is to consider when buying a garage door. There are different types of garage door materials, and each of them has several unique features. The common types of materials for garage door construction include the following:
Aluminium
Aluminum garage doors are highly suitable for humid environments and can resist corrosion and rust.
Steel
Steel is also the most common type of garage door material you can find. It provides several options in terms of the price range, style, and color of garage doors.
Composite Wood
Composite wood has the attractive look of actual wood and can be made to have moisture resistance. Moreover, it does not crack or rot, and it can be painted to your preferred color.  
Wood
Wood has an attractive look when used for garage doors. However, you may have to frequently maintain the wooden garage door to keep the finish intact. Wooden garage doors are also fabricated so that they can be moisture resistant.
3. Sound Level
The sound made by a garage door is also what to consider when buying a garage door. Having a garage door that makes a loud noise while operating may be frustrating, and the experience may also be unpleasant. Ensure that you buy a new-belt-drive opener and ensure that nylon rollers are used since they are known to operate quietly.
4. Garage Door Window Consideration
Buying glass garage door panels have its pros and cons. However, garage door windows provide aesthetic beauty for your garage doors, depending on your home style. Garage door windows also provide natural lighting into your garage. The downsides of having windows installed in your garage doors are that you will always have to clean the windows. Some garage doors have grid-style glass panels with several sections, and you might spend time and money to ensure they are clean regularly.
5. Garage Door Insulation
Garage doors play a role in either increasing or decreasing your home's heating capacity since they are attached to your house. A well-insulated garage door improves your home's energy efficiency and can also reduce the energy bill. You can choose to have insulated garage doors or hollow ones depending on your home's heating requirement.
6. Garage Door Strength Rating
The strength ratings of garage doors are different. A garage door strength rating measures how a garage door can withstand harsh weather conditions, especially in some windy locations. Locations with a high occurrence of hurricanes and other unfriendly weather conditions require a certain degree of strength rating.
7. New Technology
New technology has been incorporated into garage door designs that allow you to control your garage door with your smartphone from any location. You can check if your garage door is open by going through an app on your phone, whether you are in the office or out of town. When buying a garage door, you can decide if you should buy garage doors with more advanced security features or purchase the regular garage door type.
Should Price Be Considered When Buying a Garage Door?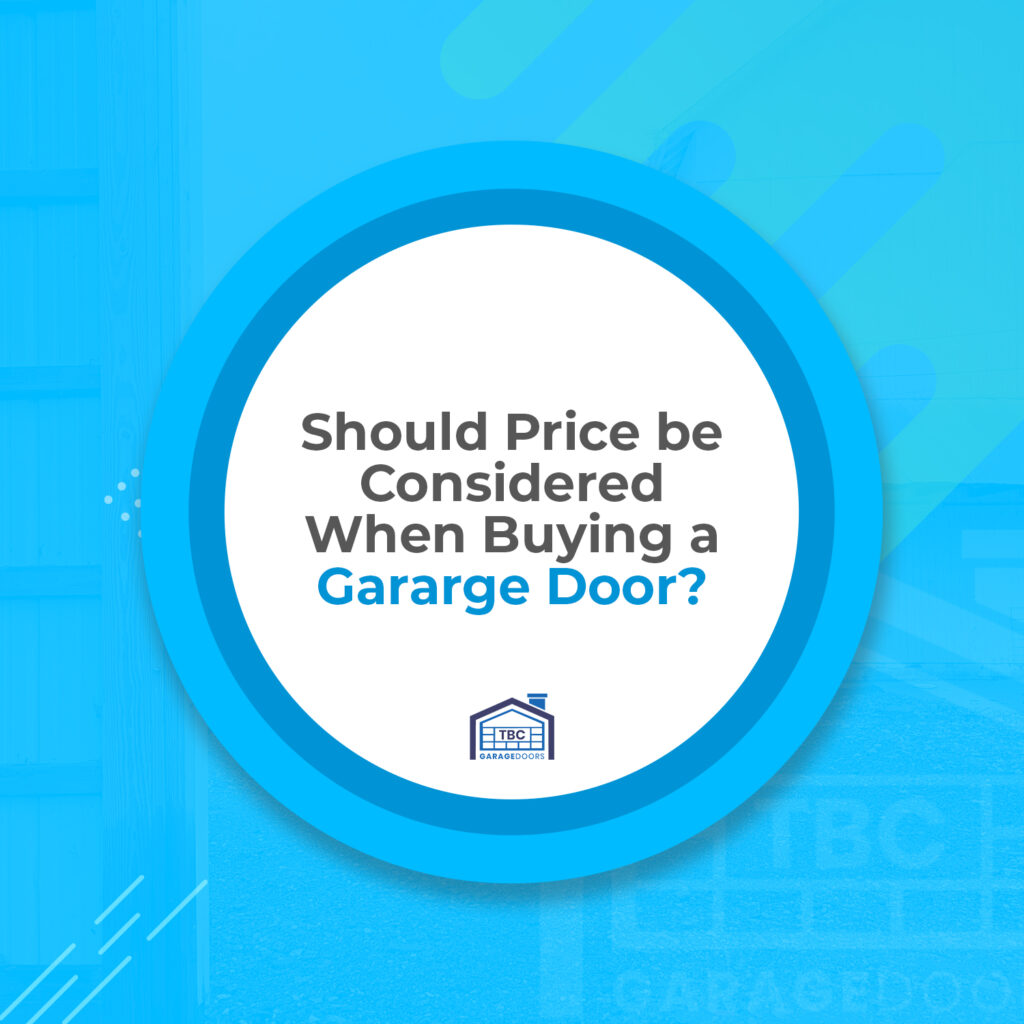 When it comes to the security of your home, price should not be a significant deciding factor. However, you may want to buy one that is within your budget. For most homeowners, quality and durability should precede price since your garage is one of your home's essential parts.
However, you can get several estimates of the same garage door type from a vendor but know that the cheapest brand is not always the best. You can analyze the different price options available to you and weigh them against each garage door's features. Select the option that offers you everything you need, including security, aesthetic design, strength rating, insulation, and durability.
What R-value Should I Look Out For in a Garage Door?
A garage door's R-value refers to the thermal resistance of the door. In other words. The R-value of a garage door is a measure of a garage door's ability to prevent heat loss or withstand heat transfer through the door. The higher the R-value of a garage door, the better your garage will be insulated. If the "R" number is higher, it will increase the possibility of your garage door retaining or losing heat.
For insulated garages detached from the main house, a greater than ten rating may be appropriate. If the garage is not insulated but separated, then an R-6 value may suffice. For non-detached garages, an R-12 value may be appropriate. However, before determining the R-value of a garage door, it is best to analyze the door's cold resistance.
Which is Better Between Aluminum and Steel Garage Doors?
Earlier, we highlighted what to consider when buying a garage door and what point we mentioned was the garage door material of construction. Both aluminum and steel are excellent garage door materials, but they have different features that make them unique. Steel garage doors are more expensive, but some higher-quality aluminum garage doors can compete with steel doors in terms of price.
They are also more durable than aluminum doors. However, aluminum garage doors are more resistant to rust than steel, but coated steel garage doors can also resist rust. Steel garage doors are even stronger than aluminum and can better withstand stormy weather. Aluminum garage doors are lightweight, recyclable, corrosion-resistant, and may require low maintenance.
Can My Garage Door Opener Be Hacked?
Garage door openers allow you to go in and out of your garage, but they can also be vulnerable to attack from intruders. Garage door openers can be hacked. Getting a highly secure garage door opener should be part of what to consider when buying a garage door.
It is easier to hack those garage door openers that use a fixed code. However, hacking garage door openers with rolling codes may be difficult but possible. Burglars can also hack smart garage door openers using a Wi-Fi network with a weak security feature.
Truthfully, hacking is potential on different garage door openers if the intruder is persistent and smart. As a homeowner, you have to reduce your garage door security vulnerability and make it more challenging to be burgled. Fixed codes are common in remote-controlled garage door openers because it uses radio frequency to send the code to the garage door receiver.
Whenever you press your garage door remote controller's button, the receiver receives the code from opening the garage door. The issue with this process is that the sent code is always the same, and that is why it is called fixed codes. A hacker can easily intercept this code and hack your garage door opener. Newer garage door opener models use rolling codes and are more difficult to hack.
Conclusion
Having a garage door is great because of the security it provides to your garage, the aesthetic design it gives to your home, and the added warmth it offers in colder climates. However, you should know what to consider before buying a garage door, and they include the sound level, strength rating, insulation, garage door style, and material of construction.
When buying a new garage door, ensure that quality and durability are top of your list because a quality garage door encompasses all other benefits you can find in using a garage door.