Many times, the question of whether expensive locks are more secure or not is often raised. In this article, discover all you need to know about expensive locks and if they are the best bet for you.
Are Expensive Locks Worth It?
The answer to this question is yes and no. With commercial and residential locks, the case is different. With commercial locks, it makes perfect sense to spend money on expensive, high-security locks. When it comes to residential locks, if you are only concerned with break-in's, you might want to look at other methods of reinforcing security other than expensive locks. If you do have items of value to protect, you should invest in high-security locks.
Are Electronic Locks Better Than Key Locks?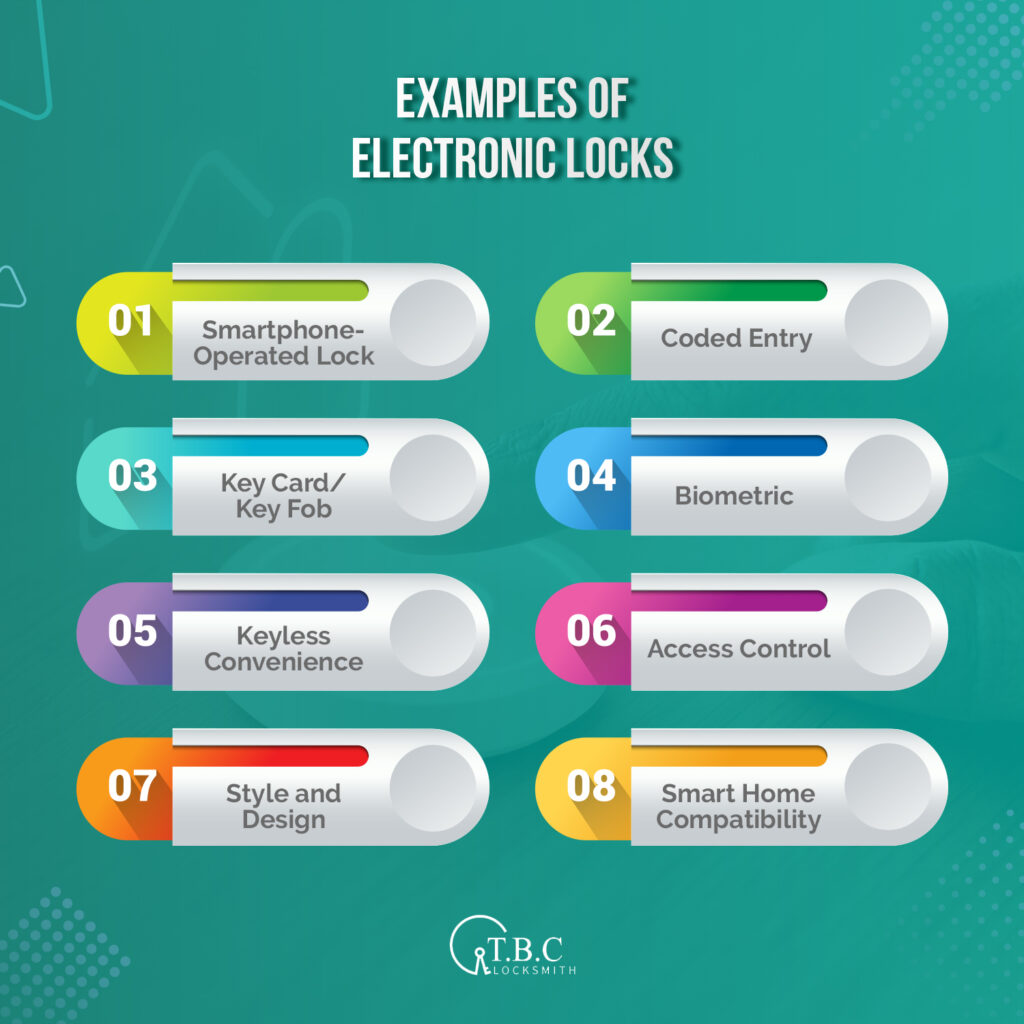 Electronic locks remove the need for keys and include automation features such as remote unlocking or locking. This allows the locks to be monitored or controlled through a smartphone.
Some examples of electronic locks include:
Smartphone-operated lock
Smartphone-operated locks are operated through a smartphone. They normally require an app that grants you access to set unlock and lock times. Some of the features smartphone-operated locks offer to include monitoring, allowing you to receive alerts if someone tries to break into your office or home.
Coded entry
This is the most typical electronic lock. A keypad is installed outside the door, and a code will be required to unlock it.
Key card/key fob
Key card or key fob locks are electronic door locks activated by you touching the key card to the touchpad.
Biometric
Biometric door locks are usually operated via fingerprint. All you need to do is place the registered finger on the lock to gain entry. Some other biometric options include eye scanners and voice-activated locks, although they can be very expensive.
Pros
It is easy to change or add combinations
It offers additional security with increased lock combinations
You can self-service the locks
It gives you the ability to monitor access
It can be easily accessed in the dark
Keeps a record of who has locked and unlocked
Cons
Requires access to electricity to operate properly
May require multiple battery changes
Keyless Convenience
An electronic lock does not require a key to operate. They are great for businesses, allowing you to set multiple combinations for different groups of people.
Access Control
Electronic locks offer better access control because all you need to do is program a special access code instead of fumbling around with various keys. Also, electronic locks let you take note of who has been in and out of your building.
Style and Design
Mechanical door locks usually have a wide range of styles and finishes. Electronic locks have more limited, minimal, yet sleek designs. If you require a more cohesive look throughout your home, mechanical locks might be the best bet for you.
Smart Home Compatibility
If you are big about automation, along with the added security and convenience, then electronic locks are the better option for you. Ensure that you pay proper attention and make sure that the electronic lock you choose is compatible with the existing devices in your building.
Is a Keypad Door Lock Safe?
High-quality keypad door locks that are fitted by a professional are considered safe. This does not mean quality keypads will automatically make your property safer. Keypad door locks are available in a wide range, offering security for your property.
Bear in mind that the major flaw in the security system of a property is not the lock but the user. Many burglars gain access to your home via an unlocked window or door. It is not enough to install quality keypad locks; you have to use them.
Are Digital Locks Secure?
Yes, digital locks are secure. This does not mean they are any more secure than mechanical locks. However, it is important to note that getting past a digital lock might prove more difficult for a regular burglar than a mechanical lock.
Getting past a keyed lock is quite easy for a typical intruder. However, depending on the material digital locks are made from, it can be quite the breeze for burglars. It is important to note that almost all digital locks making use of Bluetooth, wifi and fingerprints tend to cease function during a power outage, requiring a backup key to unlock the door. Most burglars are skilled in exploiting the backup key slots in electronic locks, granting them access into your home.
Electronic door locks are not safer than keyed door locks per se. However, if a person is tech-savvy and wants to enjoy the ease of access, an electronic door lock is the best way to go.
Can a Digital Lock Be Hacked?
Like many other digital devices, digital locks can be hacked. Most smart locks have many vulnerabilities that make them at risk for hacking. Some of these vulnerabilities include device spoofing, plain text passwords, replay attacks and decompiling APK files.
Although some models of digital locks are more secure than others, most times, these locks are installed for convenience rather than security.
How Can I Make My Front Door More Secure?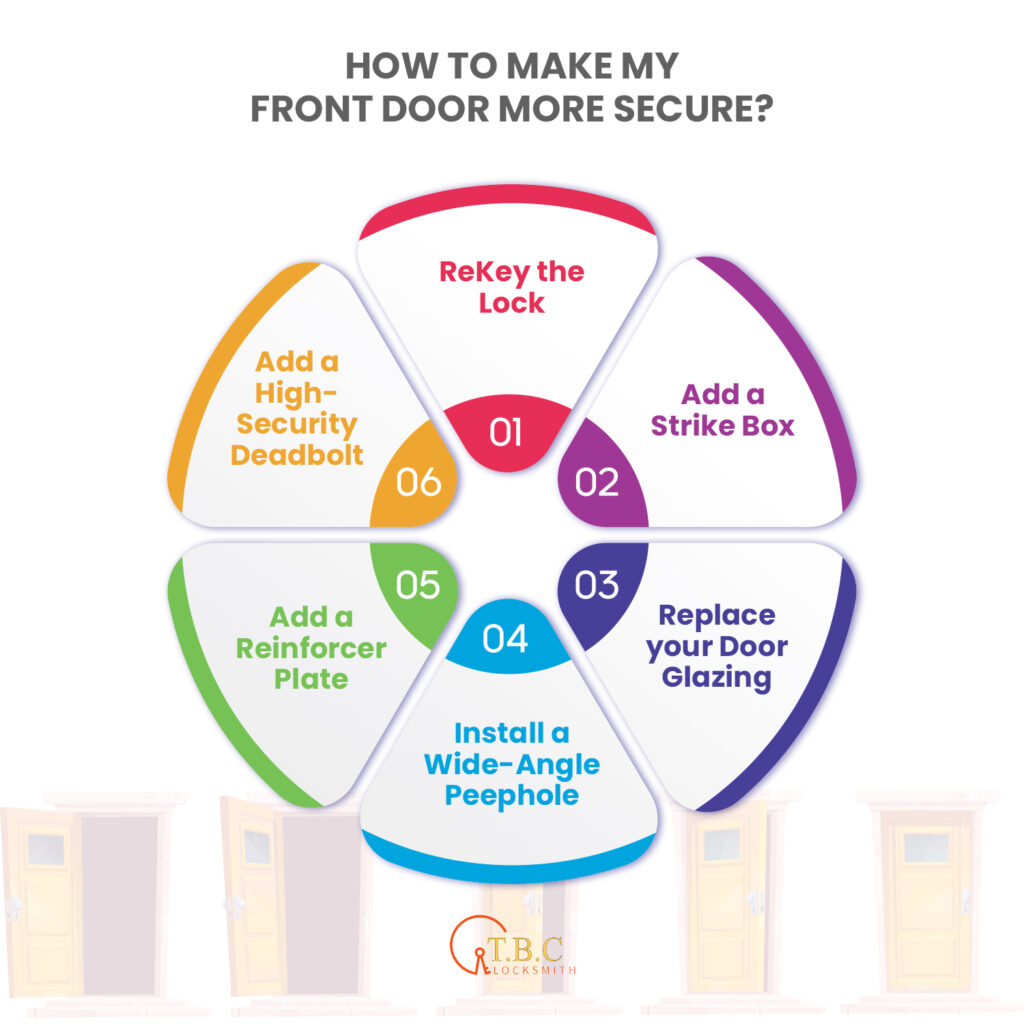 There are several steps you can take to make your front door more secure. To make your home more secure, you can take the following steps:
ReKey the Lock
If you have just moved homes, it is your responsibility to ensure that your home is secure. Rekeying can be the solution for you. With rekeying, you take out the old cylinder and replace it with a new one that fits different pins.
Rekeying kits are easy to find. You can check your local hardware stores and get a kit that can match most brands. This makes rekeying one of the simplest steps you can take to secure your front door.
Add a Strike Box
Although complicated, strike boxes improve the layer of security on your front door. Strike boxes are small and sleek, allowing them to fit your door seamlessly, enhancing its overall style.
Attaching the strike box to the hinges of your door can protect the opening, blocking it from bad weather. This will prevent wind and rust from affecting the opening system.
Fitting a strike box requires certain adjustments to your front door. However, these adjustments, including enlarging the hole in the jamb and the cover plate recess, are pretty straightforward. A professional locksmith should be able to get it done easily.
Replace your door glazing
Most older doors make use of single-glazed glass in their designs. However, this style of glazing cannot protect your living space. This is due to how fragile glazing is, meaning intruders can break it or separate it from the door frame. Thus, getting through the glazing allows them to access the door a lot quicker.
Adding new glazing to your door comes with multi-point locking systems. These systems ensure that no matter what happens, the glass remains fasted to the door frame. Due to this, intruders will find it difficult to break the glass alone, making your front door a whole lot secure.
Install a wide-angle peephole
A wide-angle peephole is a very easy security feature to use and install. You can install these indoors that are as thick as two inches, which means you can incorporate them in most designs. These peepholes give you a clear view of the front of your house, allowing you to see what's going on outside without people outside seeing you.
Wide-angle peepholes are installed, making them a straightforward option to secure your front door. A trained locksmith can install your wide-angle peephole for you. You can also get it done yourself if you are skilled with your hands.
Add a reinforcer plate
A reinforcer plate works by encasing your door around its handset or deadbolt, increasing the edge of the door and improving the security of the whole door. They are an elaborate installation, but this only means they can further improve the security of your doors. You need to measure the thickness of the frame, confirming the distance between the entrance's edge and the centre of the deadbolt. This measured distance is known as the setback, and it details the size of the reinforcer plate.
Add a high-security Deadbolt
deadbolt are an affordable option that offers some of the best protection you can get for your front door. They are available in three options; single, double and lockable thumb turn options. All these options allow you to secure your door, using an outer key cylinder in collaboration with an inner thumb turn to close the lock automatically.
Conclusion
Fixing your door lock problems does not have to be complicated. When you work with a professional, you can get exceptional service, even in the case of an emergency Contact TBC Locksmith for all your locksmith needs. We are an affordable locksmith company, and our team of skilled locksmiths offers top-notch solutions for car lockouts, homes, storefronts, offices, and so on.
Our services include installing new locks, top-notch door repairs, rekeying locks, and making new keys. All our locksmiths are licensed and insured, and we offer you affordable pricing with a 90-day guarantee.