A garage door is one of the most important aspects of a home. Choosing the right styles of garage door can significantly increase the resale value of your home while boosting its curb appeal. However, many homeowners struggle with picking the perfect garage door.
In this article, discover everything you need to know about the styles of garage doors and which is most suitable for your home.
Five Styles of Garage Door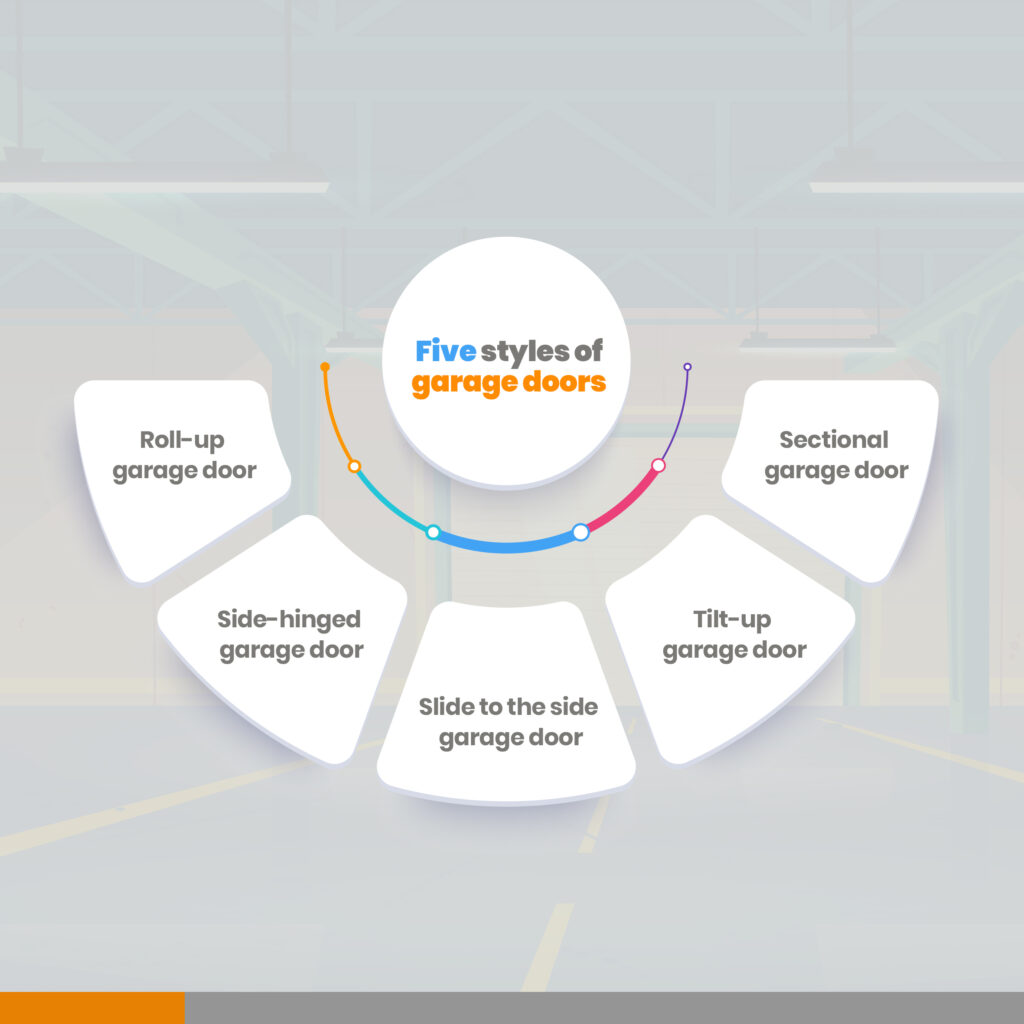 There are several styles of garage doors to choose from. The most common styles are:
Roll-up garage door
Sectional garage door
Side-hinged garage door
Slide to the side garage door
Tilt-up garage door
These different garage door styles also come with special additions such as the material they are made from, door colour, finish and other important features such as insulation, windows and hardware.
Here is a breakdown of the different styles of garage doors to make it easier for you when buying one.
1. Roll-up Garage Door
Rollup garage doors are no-frills design options that are built in areas that have limited space. They are usually for commercial use but occasionally can be found in residential buildings.
The doors are built for heavy usage, and you will often find high-performance units built without springs or enclosed to prevent corrosion, rust and freezing. Because of the heavy nature of the roll-up garage door, the upfront costs are more than a sectional garage door.
2. Sectional Garage Door
Sectional garage doors consist of panel sections that are connected using hinges. As the door closes and opens, the wheels located at the panel edges roll inside the vertical tracks at each side of the door opening.
Each panel section has hinges that are bent over a curved section of the track. This allows the doors to sit in line with the walls when closed completely or parallel to the ceiling when open.
Above the opening, a pair of high tension springs are attached to cables that hold the door from drifting down when partially opened and operate the door.
Sectional garage doors are usually low maintenance, forged from steel, and customized to include hardware and window inserts. Sectional garage doors can be insulated or uninsulated.
3. Side-Hinged Garage Door
Side-hinged garage doors swing closed and open from a hinged frame located on either side of the opening. They are shaped like large barn doors and are usually wooden. However, galvanized steel doors are also available for commercial purposes.
Side-hinged garage doors can be fit into existing openings or purchased in prehung steel frames. You can also use special conversion arms to automate these garage doors.
4. Slide to the Side Garage Door
Slide to the side garage doors operates by bending to one side and sitting parallel to the wall. Homeowners originally used these types of doors for garages with small headroom. These doors run along with flexible lower trolleys with slight slopes in the ceiling or the floor. They have built-in retractable motors for automated operation without needing a ceiling-mounted operator or balancing spring.
5. Tilt-up Garage Doors
Tilt-up garage doors are available in two models; the canopy and the retractable garage door. The tilt-up canopy garage doors are made of one solid piece, lacking sections. They also have a pivoting hinge mechanism that allows them to tilt up into the garage. This garage door style sits parallel to the ceiling, protruding past the front of the house when the door is open.
The retractable tilt-up garage doors lift into the garage when opened. They are independently suspended from the frame, preventing them from extending past the front of the house. This retractable design requires more space than canopy garage doors and is more expensive and difficult to operate.
What Materials are Garage Doors Made From?
Garage doors are made from a variety of materials such as wood, steel, aluminum and fibreglass. These materials are available to suit different climates, budgets and aesthetics.
Let's take a look at some of the materials garage doors are made from.
Wood
Wood garage doors are often preferred for their eco-friendliness. They provide a timeless and elegant exterior. Wood garage doors are an excellent choice for homeowners who want a unique, custom look.
Wood garage doors can be expensive upfront and require a lot of maintenance to be preserved properly. If not maintained regularly, a wood door will begin to rot, fade, chip or warp.
This type of garage door is best suited for mild climates as drastic changes in temperature can cause wood to extend and wrap. If your wood garage door also comes in frequent contact with humidity, rain or snow, moisture absorption can occur, damaging your door.
Steel
Due to its durability, flexibility and overall value, steel has become a very popular garage door material. Steel garage doors are available in several design options, providing a more practical, cheaper alternative to natural wood.
When compared to wood garage doors, steel is easier to maintain and significantly lighter. Its primary disadvantage is that steel is susceptible to rust and corrosion. It is common to discover rusting along the bottom section of a steel garage door in areas where plenty of salt is used for de-icing during the winter months. To elongate the life of your garage door Toronto, we recommend washing it at least twice a year to get rid of dirt and grime.
Aluminum
Aluminum garage doors are often combined with glass and add a contemporary, eye-catching look to garage doors. Since aluminum is lighter than steel, it is less durable. Strong hail or winds can cause dents in aluminum and can be difficult to fix without the help of a specialist. Insulation can include resale value and boost thermal protection for your garage space.
Although suitable in every climate, aluminum is sensitive to extreme heat.
Fibreglass
Fibreglass closely mimics the grainy texture of authentic wood. However, unlike wood, fibreglass garage doors will not warp, shrink or crack – making them ideal for homeowners who live in humid climates. Fibreglass is a low-maintenance, economical alternative to wood. Fibreglass is also semi-transparent and, as a result, allows more light into your garage.
This material is not recommended for windy coastal areas and is best suited for warmer climates. High winds can rattle your fibreglass garage doors, resulting in an irritating noise. High winds can also damage your garage doors. Also, you must note that you cannot repair your fibreglass door if it gets damaged, so you will need a full replacement.
What Type of Garage Door is the Cheapest?
The cheapest garage doors are steel garage doors. The downside to them is that they require more insulation to regulate the garage temperature and dent easily. You can get a 16'x7′ steel garage door for as low as $500.
The term "cheap garage door" often refers to non-insulated steel garage doors. The steel grade and the amount of insulation greatly affect garage door pricing.
What is the Difference Between a Residential and Commercial Garage Door?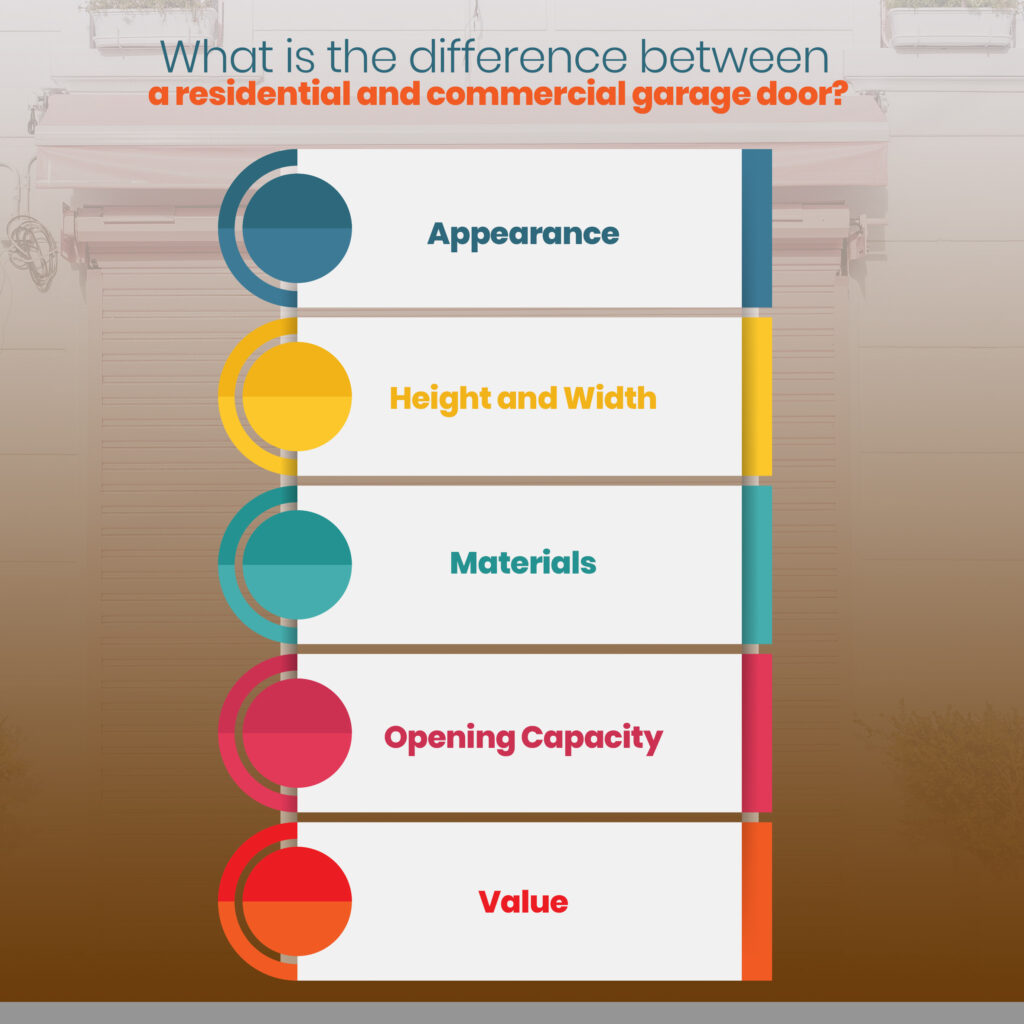 One way to distinguish residential and commercial garage doors is by the building it is attached to. Here are other distinguishing features between the two types of garage doors.
Appearance
One major difference between residential and commercial garage doors is that residential doors are more focused on aesthetics than commercial garage doors. Commercial building owners are more focused on function than appearance. Residential garage doors have a great impact on the resale value and overall curb appeal of a house. Due to the functionality of commercial garage doors, they tend to be more simple and plain in design. Most commercial doors are either flat design or roll-up doors.
Height and Width
Commercial garage doors tend to be bigger than residential garage doors. Usually, residential garage doors have a standard height of seven feet and vary between eight and nine feet in width. Commercial garage doors, however, do not have a standard size. Their sizing is usually dependent on its application. Commercial buildings with many large pieces of machinery will need bigger garage doors than commercial buildings that do not.
Materials
Commercial doors are usually made of galvanized steel or aluminum for durability and increased security. Most business owners require garage doors that offer longevity. Residential garage doors depend on factors such as the homeowner's budget, curb appeal and personal preference when it comes to picking materials. Homeowners can purchase a garage door in various materials – wood, steel, fibreglass, etc.
Opening Capacity
The door opener of a commercial garage door is designed to endure being opened several times a day. The residential garage door is used only a few times a day, and as a result, its door opener is not as high duty as a commercial door opener. Also, commercial doors function a lot more efficiently and operate quicker than residential garage doors.
Value
Commercial doors are usually more expensive to install and maintain when compared to residential doors. This is because commercial doors are often larger. After all, they are built for commercial-level security. Due to the cost of commercial doors, they are hardly ever used in residential buildings.
Conclusion
If you are a new homeowner or a commercial property owner who needs an expert to install your garage door, check out TBC Garage Doors.
We handle different doors, from over/tilt-up canopy garage doors, sectional garage doors, rollup garage doors, and side-hinged garage doors.
Our services also include garage door spring installation/repair, garage door framing, new garage door installation, garage door opener belt installation/repair, among many others.
All our technicians are licensed and insured, and we offer you affordable pricing with a 90-day guarantee. We are available 24/7 and offer emergency services . Contact us for the best garage door repair/servicing experience.