Several signs would let you know that you know that you need a garage door repair. Managing a faulty garage door may be dangerous and exposes you or your family members to an accident. It may also damage other useful parts of your garage door. It is highly essential to always carry out regular preventive maintenance on your garage doors by checking for any loose parts or listening to the noise the garage door makes while operating.
When do you think it is best to repair your garage door? There is no specific time to repair a garage door, but you should not wait for an accident to occur or for the garage door to stop working before you can do so. Here are signs you need a garage door repair.
Nine Signs You Need a Garage Door Repair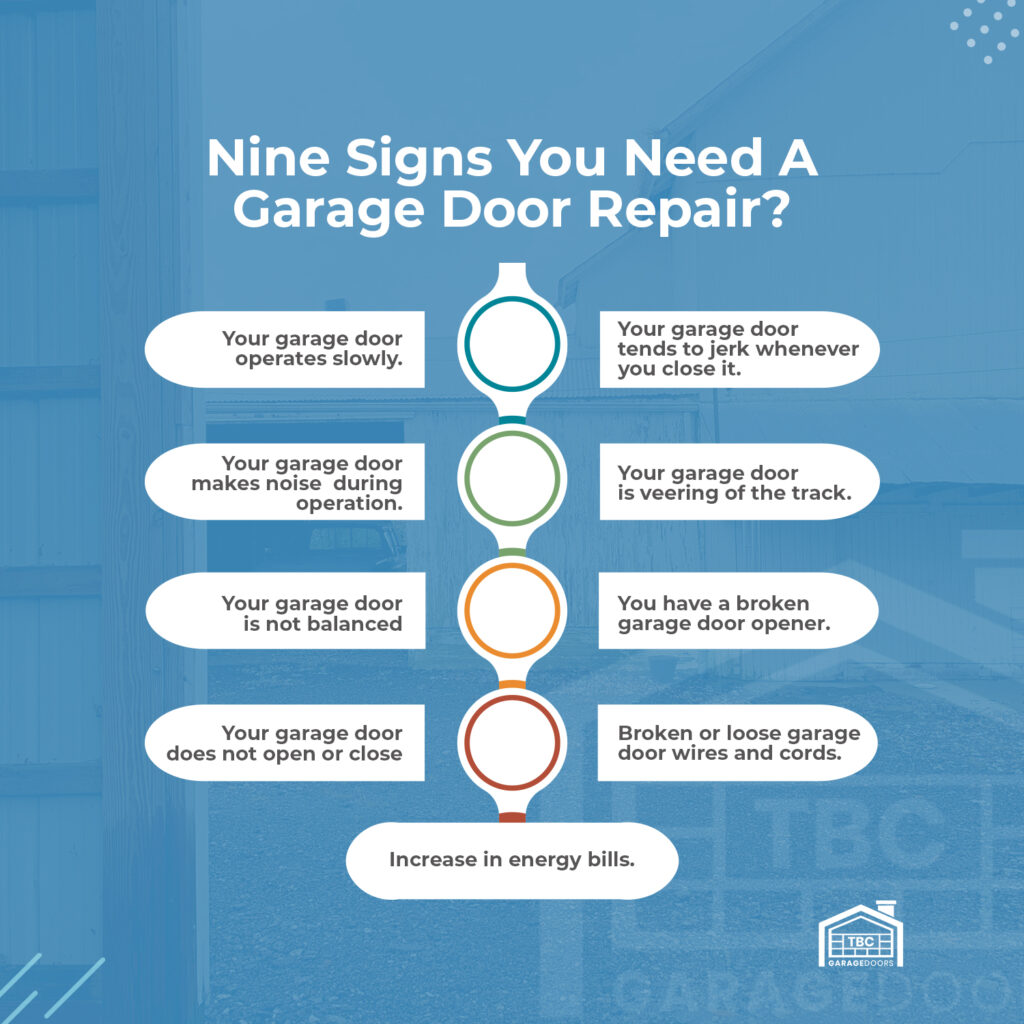 1. Your garage door operates slowly
Several factors can cause your garage door to operate slowly, and one of them is the age of the garage door parts. If the torsion springs, hinges, and other garage door parts are showing signs of wear, it could affect your garage doors' operation. Insufficient lubrication can also cause your garage door to work slowly. If your garage door's tracks, hinges, and other moving components are not well lubricated, it could slow down how your garage door operates. Another factor that may cause your garage door to slow down is programming issues. The speed at which your garage door was programmed to operate may have been affected and may need to be reprogrammed.
2. Your garage door tends to jerk whenever you close it
If your garage door jerks whenever you close it, it may be a sign that your need to carry out garage door repair or maintenance. You should, however, try to ascertain if the movement is excessive or minor. If your garage door shudders or shakes excessively, it may be a sign that your garage door rollers are off track, or there may be some loose hinges or screws.
3. Your garage door makes noise during operation
It is annoying to have a noisy garage door. A noisy garage door is a sign that it needs to be repaired. The type of sound made by your garage door may determine the likely fault it has. If your garage door makes a rumbling or grating sound, it could result from malfunctioning torsion springs. A grinding sound may indicate that the garage door may be dragging against the roller track.
4. Your garage door is veering off the track
It may be dangerous to operate a garage door veering off from the track, and several factors can cause garage doors to come off track. If rollers wear or break out, it could cause the garage door to come off track. Other factors include misalignment of the horizontal tracks the vertical rails and snapping of lift cables.
5. Your garage door is not balanced
If you notice an unbalanced garage door, then it is a sign that you may need a garage door repair service. It may be that the spring is faulty or overstressed. A stressed spring can snap and cause your garage door to fail.
6. You have a broken garage door opener
There are two possible reasons why your garage door opener may fail, and these include logic board malfunction of stripped nylon gears. It is very expensive for you to repair a garage door opener caused by any of the above two causes, and you may consider purchasing a new opener.
7. Your garage door does not open or close
Most people use this to know if they need to get a garage door repair service technician. It is very frustrating for your garage doors not to open or close, especially when you most need them to work. Worn or broken down cables, a stripped gear, or a malfunctioning garage door opener may be responsible for your garage door not to open or close.
8. Broken or loose garage door wires and cords
Whether or not your garage door is moving, closed, or open, it is supported by cords and powered by wires. A frayed garage door cord can weaken the support and may cause the cord or wires to snap. When you notice any of these signs, it may be time to repair your garage door. Frayed garage door cords can also cause the garage door to sag, and in some severe cases, it can crash on people, cars, or pets. Your faulty garage door opener wire may affect the circuit and cause your garage door remote control system not to work.
9. Increase in energy bills
A closed and insulated garage door should seal your garage just like a wall. If your garage door is well sealed, it can prevent the escape of heat during winter and maintain your house's temperature. Garage doors can also help to insulate your home, but a small gap along the bottom or side of your garage door may cause your home not to be well insulated.
Less insulated garage doors can cause less comfortable and colder winters, which may cause you to spend higher energy bills. A garage door that negatively affects your home's insulation can increase heating bills and maybe a sign that you need a garage door repair service.
Do You Need a Garage Door Repair or Replacement?
Most people do not know when they need a garage door replacement or repair. When repairing your garage door may cause more than replacement, especially if the damaged parts are highly expensive to purchase. You may choose to replace your garage door over repairing it if you have used the garage door for many years and most of the parts are worn out.
Garage doors used beyond their stipulated lifespan are better replaced than repair. Garage door repairs are carried out on garage doors that where a few repairable components may be faulty. If you regularly carry out preventive maintenance on your garage doors, you can prevent total damage to your garage door and may only have to repair a few parts when it is faulty.
Can I Carry Out Garage Door Repairs?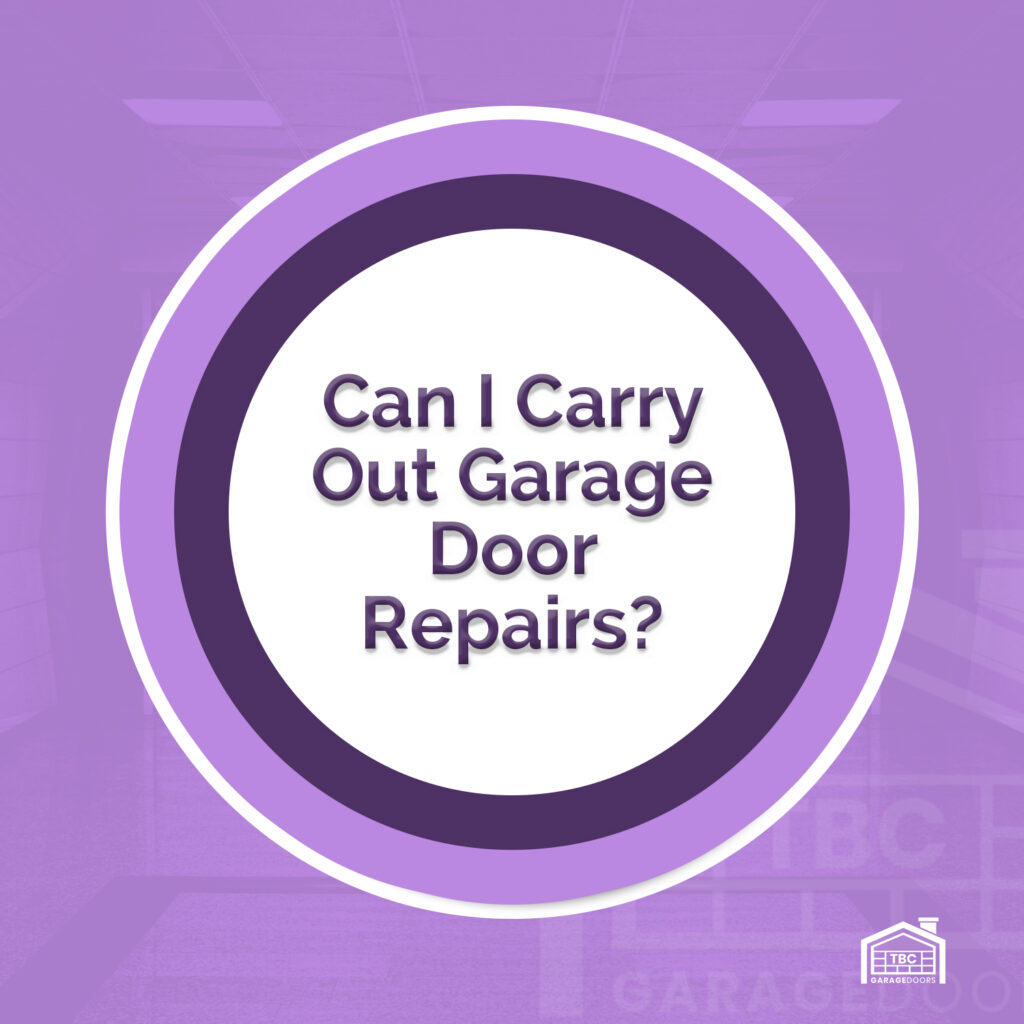 You can carry out garage door repairs by yourself, especially if it has to do with simple tasks like tightening loosed screws. You can also carry out simple preventive maintenance tasks by ensuring that your garage door is well sealed and free from dust. However, you may need to contact a garage door repair expert if you are dealing with more complicated garage door repair issues that may involve loosening and reassembling several garage door parts. Attempting to repair complex garage door issues without the right tools or technical know-how may be dangerous because the accident may happen, and the outcome can sometimes be deadly. Therefore, it is essential to find a reliable and trusted garage door technician to help you repair your garage door.
How to Speed Up a Garage Door that Operates Slowly
A garage door that opens slowly could be due to the speed setting on your garage door opener that is not properly adjusted, or maybe that the rollers, tracks, and hinges are not well lubricated. You can correct the issue of your garage door operating slowly through the following means.
Place a stepladder under your garage door opener and climb on it until you can access the mechanism.
Remove the opener panel and check the opener speed settings. If the speed is set to the lowest, use a screwdriver to increase the speed.
Replace the opener panel and highlight from the ladder.
Check if the new speed is appropriate by opening and closing the door. If it still doesn't operate properly, then your garage door may need to be lubricated.
Close your garage door and wipe away grime and grease on the pins, rollers, and hinges using a damp cloth.
Apply lubricating oil to the hinges, roller pins, tracks, and roller mount brackets.
Open and close your garage door so that the lubricating oil is distributed to all moving components. It is, however, not advisable to use lubricating oils on rollers made of nylon.
Conclusion
Leaving your garage door to be damaged and unusable before repairing it is a risk. A faulty, damaged door may pose a security threat to your home because unwanted persons can gain entry into your home. Aside from that, it is dangerous to have a faulty garage door because it can snap and crash while someone or a valuable property may be under it. Tell-tale signs are an indication that your garage doors need to be repaired.
We have listed some of these signs to help you know when you should contact a professional garage door technician to effect repairs. You should also observe the function of your garage door to see if anything is unusual. It is advisable to always carry out preventive maintenance on your garage doors regularly to avoid damaging your garage doors and spending more money on complete replacement or thorough repairs.