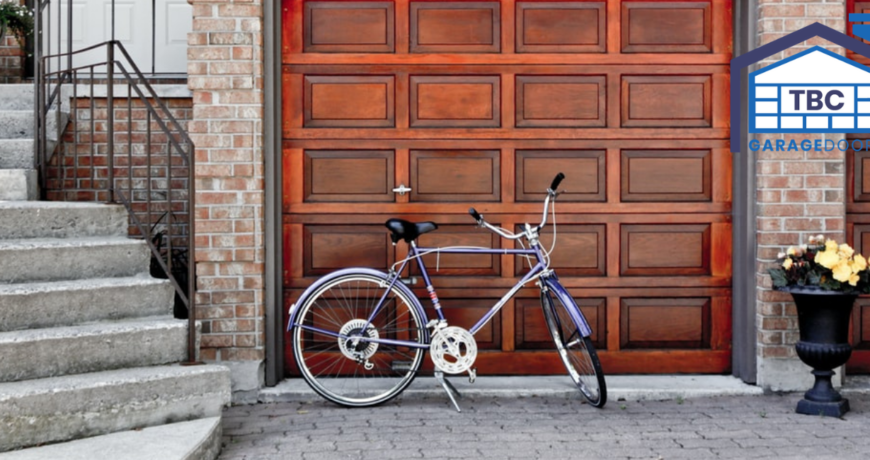 Garage Door Replacement: Your Guide to Buying a New Garage Door
Garage door replacement is definitely no minute task, whether you're moving into a new house or replacing your old garage door. Considering that a lot of homeowners don't have much experience with garage doors, it is imperative to be aware of all the factors surrounding the purchase of your garage door before making a purchase. New garage doors vary in prices and types, depending on your budget and preference.
You might be surprised to discover that replacing your garage door is as good an investment as any other home improvement project. Bearing that in mind, here are some major considerations to know before embarking on your garage door search.
Best Types of Garage Doors
There are numerous types of garage doors to choose from. Though the six most common types are sectional, roll-up, slide, side hinged, tilt-up canopy and tilt-up retractable. It is important to also decide on the material, the finish and other fittings such as insulation, window and hardware for your garage door purchase or replacement.
Here is a breakdown of the various types of garage doors to help make your selection process a breeze:
1. Sectional Garage Doors
Sectional garage doors are really popular, especially in the United States, and they are made up of panel sections bound with hinges. Opening and closing the door rolls the wheels at the edge of each panel roll inside the vertical track on the sides of the opening door.
Typically, sectional garage doors are made from steel, they are low maintenance and they can be customized to taste. They are also available in both insulated and non-insulated models.
2. Roll-Up Garage Door
Roll-up garage doors, also referred to as coiling doors are capable of withstanding heavy units and the high performance units are enclosed to prevent freezing, rust and corrosion.
3. Slide to the Side Garage Doors
As the name implies, the slide garage door operates by opening to one side of the garage and resting on the wall. They operate along lower trolleys that can function with slopes in the ceiling and floor. Slide garage doors have a retractable motor, making the operation automated.
4. Side-Hinged Garage Doors
Typically, side-hinged garage doors swing open and close from a frame on one side of the opening. They are usually made of wood, although they can come in galvanized steel doors for commercial uses. Side-hinged garage doors can be purchased in already made frames or fittings can be done into existing openings. With special conversion arms, they can also be automated.
5. Tilt-Up Canopy Garage Doors
Like side-hinged garage doors, the tilt-up canopy garage doors are also made of just one solid piece, it doesn't have sections. This garage door has a pivoting hinge mechanism that allows it tilt up into the garage.
6. Tilt-Up Retractable Garage Doors
Like the tilt-up canopy, the tilt up retractable garage doors, when raised also tilt into the garage. However, they are independently suspended from the frame.
Factors To Consider When Choosing Your Garage Door
1. Garage Door Maintenance
To ensure the smooth operation of your garage door for years to come, here are some simple garage door maintenance tips to follow:
Lubricate the moving parts of the door.
A small amount of lubrication can play a huge role in preventing noise and in keeping your door in good shape. A spray lubricant can be used to grease up the drive screw, the door's opener chain, its hinges, tracks, and rollers.
Check Hardware for tightness
Considering that your garage door moves up and down multiple times daily, it is expected that some parts might loosen over time. It is therefore important to inspect your hardware for loose bolts or roller brackets.
Inspect door parts regularly
It is very common for garage door parts such as the cables and rollers to get damaged over time. So, regular inspection is required to make sure every part of your garage door is damage free. If needed, replace damaged or broken parts.
2. Garage Door Insulation
Your garage can perform other functions other than just being your parking space. It is the perfect spot for storage and can even double as your personal workshop. Without the appropriate garage door insulation system, it could be really difficult to spend time there. Depending on your preference for your new garage door or your garage door replacement, you can add foam, fiberglass, or cellulose insulation. Here are some benefits of garage door insulation:
Energy Conservation
One of the great benefits of properly insulating your home is energy efficiency. Considering how drafty garage doors can be, you can conserve a lot of energy and save yourself money by installing an insulation system in your garage door.
Impact Resistance
The additional layers of insulation will also serve as protection for your garage door and make it more durable. Also, your door is less exposed to dents than it would have been if you left it bare.
Weatherproofing
Not only will your garage door insulation help with the climate, but it also serves as protection against elements that can have long term effects on your door. With the insulation padding, your garage door has a protective barrier that will keep it from sagging over time.
3. Garage Door Color
Another consideration that a lot of people might not pay attention to is the color of their garage door. It is imperative to select a garage door color that matches the color of your home exterior. Taking time to make your choice of color for your garage door will go a long way in determining the overall outlook of your home.
Usually, garage door manufacturers offer garage doors in regular standard colors. However, if you do not find a standard color that coordinates with your home exterior, you can customize the color of your garage door to suit your taste.
A prefinished door is a perfect choice for you; you can have the door delivered to you and you can paint the component parts of the door before installing it. It is also pertinent to follow the manufacturer's guidelines on preparing your door for painting, the best type of paint to use on your garage door, and certain restrictions, if necessary.
4. Garage Door Pricing and Warranty
Once you find the garage door of your choice, ensure to price shop. You can save yourself a few hundred dollars when you properly look through the selling price that the garage door is going for. Though shopping for a garage door might not be the most fun activity, it is one of the biggest investments in your home so you have to take enough time to make a perfect choice.
You should also make inquiries about the warranty for your garage door. Considering that some manufacturers offer longer warranty periods than others, you might want to ensure you know the different periods and choose the most suitable for you. The duration of the warranty can also depend on the specific type of garage door you want.
5. Garage Door Materials
Just like every entry door, garage doors can be made from an endless list of materials like steel wood, fiberglass, aluminum, glass's, or vinyl.
Types of Garage Door Materials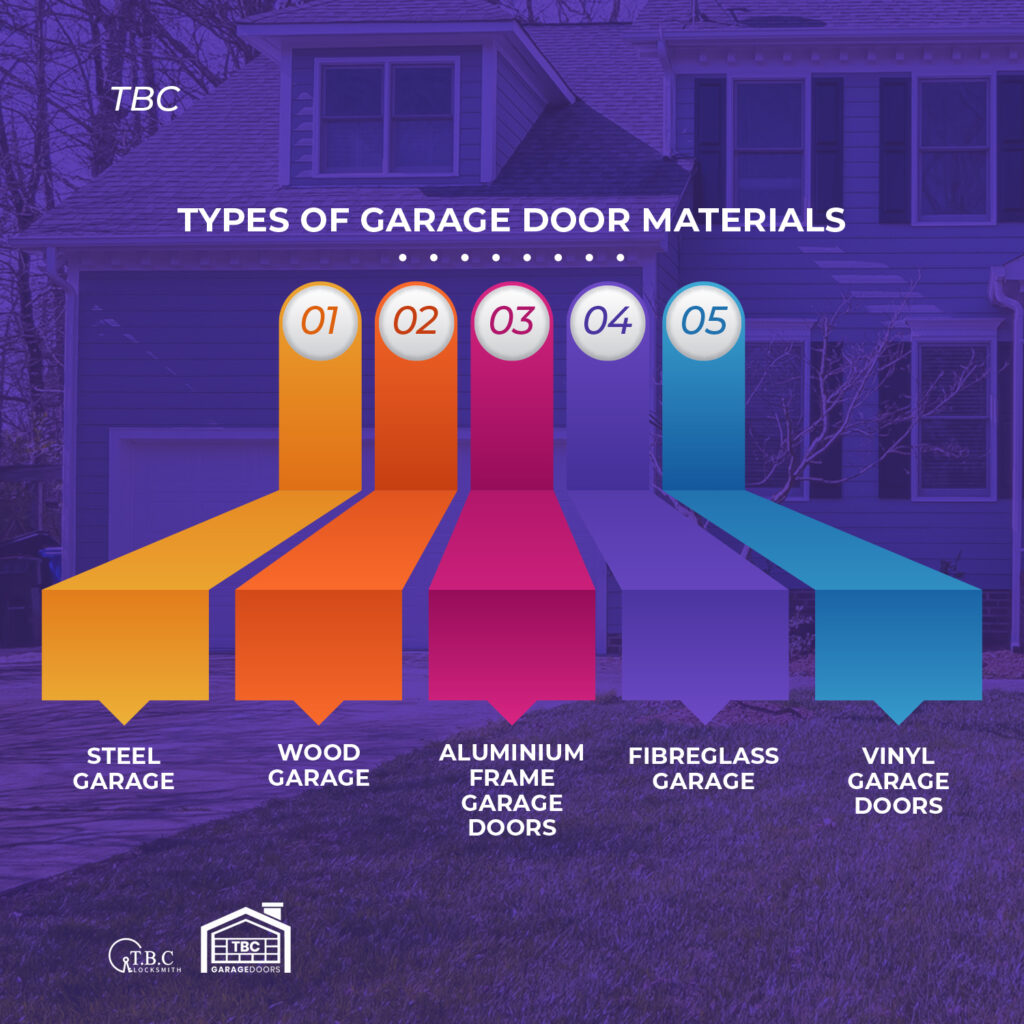 Steel Garage Doors
For steel garage doors, two layers of galvanized steel are used and the surface can be primed and then painted with a topcoat finish or a composite material. With or without insulation, steel doors can be painted to match your home. However, steel doors can easily get dented and in coastal areas, are easily subject to corrosion.
Wood Garage Doors
To prevent warping, wood garage doors are built with plies or layers. Usually, woods from cedar, redwood, meranti and fir are made into garage doors.
Aluminum Frame Garage Doors
These type of garage doors are fitted with aluminum panels and they eliminate they eliminate the rust problem. However, they are easier to dent. Aluminum frame doors can be obtained in various finishes and colors.
Fiberglass Garage Doors
Fibreglass garage doors are not as subject to denting or cracking. Though they do not get rust, they can however break easily on impact.
Vinyl Garage Doors
Vinyl garage doors are typically termed 'kid-proof' because they do not sent or break easily. The are built upon steel frames, which are filled with polyurethane insulation. Vinyl doors are similar to fiberglass but in fewer colors. They require minimal maintenance and are very durable.
What is the Right Garage Door Size?
Installing the wrong garage door size will only increase your expenses and cost you precious time. So to save yourself the stress, it is advisable to be familiar with the appropriate garage door measurements to make it a whole lot easier for you.
To measure your garage door, a number of factors must be considered to ensure you are on the right track. First, you have to determine if you want a double garage door or not. This will help you know the quantities of materials to obtain.
Also, you have to decide on the height of the door. The standard height for a garage door is usually 7 feet and this is perfect for most cars. However, if you have a rack on your car, 7 feet height of a garage door might not give you enough headroom.
Another major consideration for garage door size is the door width. Typically, a single car garage door width begins at 8 feet and can be 10 feet wide. Finally about garage door measurements, you must know the thickness of the door.
It might not seem really important, but the thickness of the garage door is as vital as all the previously mentioned considerations. Thin garage doors offer very little or no insulation, however, thicker doors can have a 1/4 or 1/2 inch thick piece of foam insulation inside the steel panels.
Should I Repair or Replace My Garage Door?
The moment you discover that your garage door seems to be having a problem, notwithstanding how irrelevant it seems, it might be an indication of greater trouble. The next thing will be for you to decide if the issue is one that can be fixed or one that would require an entire replacement. So, let's highlight some issues that might require calling a garage door expert.
Once you notice that your garage door isn't opening, thoughts of expenses begin to race through your mind as you presume the cost for a replacement. Fortunately, a lot of instances allow that a great repair work on your garage door will get it moving again.
Garage Door Replacement: How to Resolve Garage Problems By Yourself
If your garage door does not open or close, you should not assume the worst. Here are some things you can do before calling an expert if your garage door begins to act up:
1. Inspect the batteries of the remote
If you are having difficulty controlling the garage door using the remote, you will most likely require a battery substitute for your remote. So, when you notice anything odd with the remote, you can inspect the batteries to determine what exactly the problem is and change them if necessary.
2. Look for Blockages
Check the photo-eye properly for any disturbance because if there is any blockage, it will keep the door from closing. Also, the tracks should be checked for particles that stop the door from rolling properly.
3. Check the Springs
The springs help raise the garage door and they are also very helpful when you need to manually open your garage door. Trying to stop a working spring can be difficult because it can break easily and injure nearby people. If you call garage door spring repair professionals, the springtime system can be easily fixed.
4. Observe Panels
If you notice that one of your garage door panels is out of order, it is best you get an instant fix. This is because the panel damage can expand and cause other panels to become inefficient if left alone. Usually, the panels of most garage doors can be easily fixed by a professional. So, prompt action should be taken to avoid spending as much as changing the entire garage door will require.
Garage Door Replacement: When You Need to Replace Your Garage Door
Some garage door problems are beyond repair and may require an installation of a brand new garage door. Here are some of such issues that can cause you to purchase a new garage door:
If you've been experiencing bits of problems with your garage door for a long time, the constant wear and tear may have resulted in permanent damage. Typically, when a garage door has persistent problems, it indicates that the door is beyond repair.
In some cases, it is glaring that your garage door needs a replacement. If you can detect obvious damages that are a lot more expensive than merely changing it, it is the perfect time to replace the garage door entirely.
If your garage door has been subjected to a break-in, it might also require a replacement. Considering that a trespasser might have compelled your garage door open by forcing it and bending at outrageous points, it is best to change the door entirely. You will most likely opt for a safer alternative if you have had experienced burglary through your garage.
To a certain extent, garage doors can be reconditioned and painted but eventually, a substitute will be required. Fortunately, purchasing a new garage door means a new appearance, better functions, and upgraded safety and security systems.
Frequently Asked Questions When Buying a New Garage Door
1. What is the average cost of a new garage door?
Getting a new garage door installed can be on the pricy side but will definitely pay off in due time. The cost of a new garage door is dependent on a number of factors such as the size of the door, the type of door, and the method of installation.
Typically, garage door installations can range between $500 abd $1,000. On an average, homeowners spend around $1,200. As stated earlier however, several factors determine the cost of a new garage door .
2. What is the best brand of garage door?
Before choosing the best brand of garage door for you, you have to put a lot of factors into consideration. Following all the guidelines listed above, you can reach a conclusion as regards the type of garage door that suits your style and budget. The following garage door manufacturing companies are trusted:
3. How much does it cost to replace a 2 car garage door?
A 2 car garage door or a double garage door costs averagely $800 to $1,500 for installation. The price of labor can vary per unit, depending on the type of garage door. Usually, pros price garage door installations per project, including labor, the door, tracks and other hardware.
Conclusion
It could be a daunting task choosing the perfect garage door for you, which is why we've compiled a list of the various garage door types, materials, garage door sizes and we have answered a number of questions that will hopefully guide your next garage door replacement.