What is the Most Secure Garage Door?
Often, homeowners wonder what the most secure garage door option they can get out there is. If you are one of such people, keep reading! In this article, discover how garage doors are broken into and how you can keep your garage door secure.
How are garage doors broken into?
Most intruders scout out a location before deciding to break in. to the trained eye, an old, neglected garage door is easily detectable. These types of garage doors are often weak and easy to break in. 
Brute force is one of the most common methods of breaking into a garage. It is very effective against old, poorly maintained doors—burglars will lookout for signs such as weak locking systems or obvious gaps around the edges.
Older garage doors that rely on just a weak latch can also be broken into very easily. An intruder can very easily manipulate latches that are only secured using the cable. This is why you need to ensure that your garage door is modern and up to date.
Using just a small block of wood and a coat hanger, a burglar can open a closed roll-up garage door in seconds. The safety release mechanism of your garage door can be set off from the outside of your garage door using no more than a coat hanger.
What are some of the security features of a secure garage door?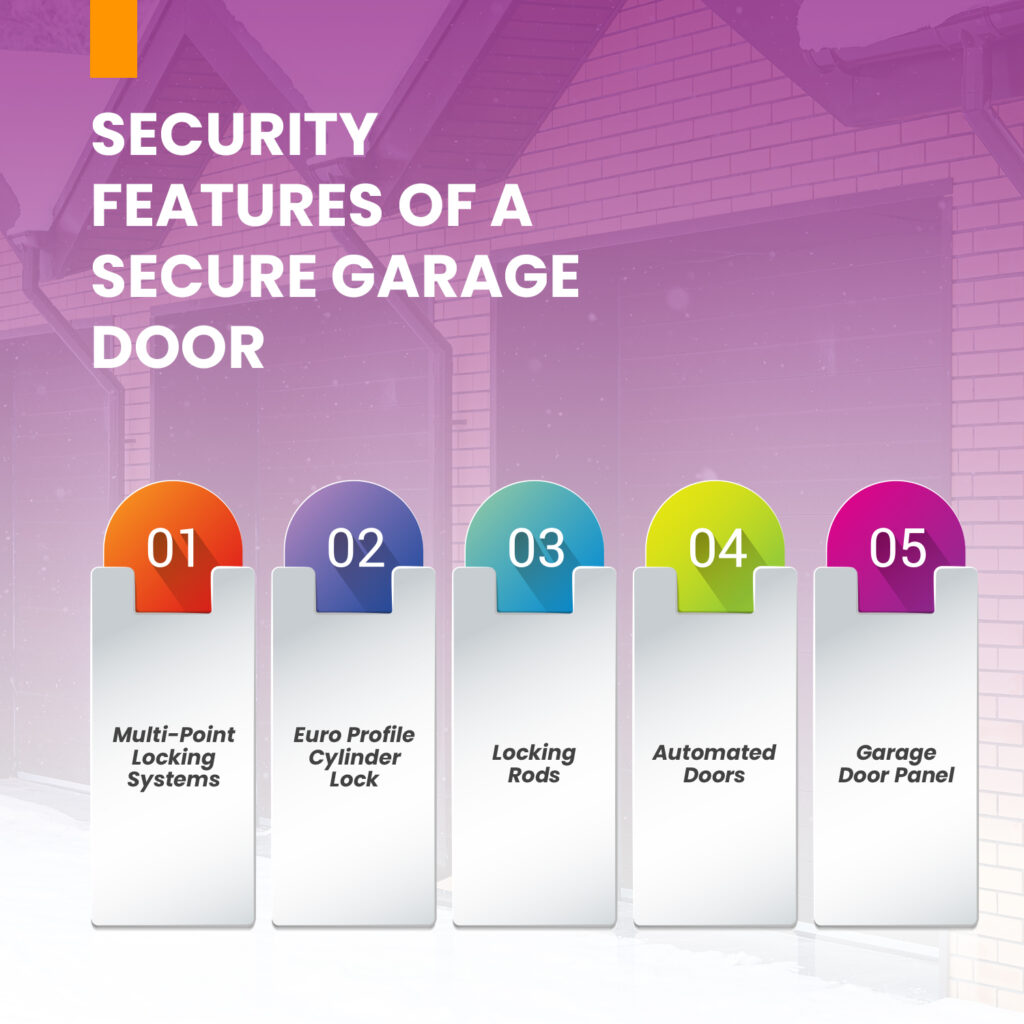 A secure garage door often comes with high-security functions such as:
1. Multi-point locking systems
It is very unwise to rely on a single internal lock. Most modern door models are fitted with at least two internal locks and the option for more as an upgrade.
2. Euro profile cylinder lock
This feature prevents intruders from drilling the man lock on the door open. It acts as a safety net in case someone removes or damages the outer lock on your door.
3. Locking rods
Locking rods are used in place of cables and make it a lot harder for intruders to break into or pass.
4. Automated doors
These are generally more secure than manual doors due to the presence of a motor. Motors keep the doors closed till they are opened using a remote. Having an automated door does mean that you have to be very careful with your remote control and not lose it.
5. Garage door panel
How your garage door panel is installed and constructed says a lot about how secure your door is. You should consider certain accreditation to help confirm whether or not a particular garage door model is more secure than others.
What is the most secure garage door? 
Here is a classification of the most secure garage doors.
1. Roller garage doors
This is arguably the most secure garage door based on its design. The installation is compact, with no obvious leverage points on the aluminum curtain. This makes a roller garage door a tough nut for burglars to crack.
2. Sectional garage doors
The security of these kinds of doors lies in their design. Sectional garage doors have robust panels, which leaves no entry points for intruders to take advantage of. It offers reliable protection against brute force, intrusion, and otherwise. Most thieves are deterred by the presence of a professionally installed sectional door without any signs of weakness.
3. Up and over garage doors
Up and over garage doors have become more secure over the years. However, the design foes leave a bit of room for burglars to attempt a break-in. You can combat this by augmenting your door with extra security features such as a security camera, alarms, or a motion sensor connected to alight. You also need to carry out routine maintenance to ensure that the panel remains in good condition and the frame stays rigid.
4. Side-hinged garage doors
This type of garage door is great for people with mobility or accessibility concerns. They are very secure, especially the insulated models. However, it is necessary to ensure that multiple locking mechanisms are put in place to protect it from brute force and maximize security.
How can I make my garage door more secure?
Some of the steps you can take to make your garage door more secure include:
1. Light up the place
Burglars thrive in darkness and rely on the cover of night to gain access into your garage or home. You can install motion-activated floodlights by your doors and windows to deter burglars from breaking in at night and having motion-sensing lights are great for keeping your detached garages out of the shadows.
2. Observe your landscaping
Although seasoned burglars do not mind scoping your house in broad daylight, thieves still take advantage of a well-placed bush or tree near your garage window and door.
Ensure that passersby and neighbors can see all that is going on near your garage. Keep all entry points visible from the street and plant small thorny shrubs under your ground floor windows to discourage intruders from breaking in.
3. Keep your garage door closed
Keeping your overhead garage door opener is simply an invitation to burglars. When you drive around a residential neighborhood, you are sure to find at least one or two open garages. Certain homeowners associations even have rules that mandate homeowners to keep their garages closed.
If you often forget to close your garage doors, invest in an automatic garage door closer or consider installing a garage sensor. This will help you observe if your overhead garage door is closed or opened. An automatic door closer will help shut your garage after a designated period.
If you require even more protection, you should look into installing an automatic garage door lock to automatically deadbolt your garage door whenever you close it.
4. Hide your valuables
Many burglars do not go in for the blind steal. Many of them spend time scanning your home for clues that they'll hit the jackpot. Having an uncovered window exposing your expensive garage equipment can be all the motivation a burglar needs to pick your house as the next target.
You can also consider interior blinds or curtains, and however, if you still want to let light flood in, you can use an adhesive window covering material.
5. Keep your remote safe
Avoid keeping your automatic garage door openers clipped to your car visors. Burglars are aware that a garage door opener remote is practically another key into your home, and they will not hesitate to make use of it once they find it.
You should consider treating your garage door remote like a key and replacing it with a keychain remote that you can carry with you all the time. You can also get a smart garage door opener to close and open your garage door from anywhere using your smartphone.
6. Shield your release cord
You can purchase a garage shield to cover your garage door's emergency release cord. This shield will make it impossible for a burglar to break into your garage. It is an easy and inexpensive appliance to install while increasing your garage door security and keeping the release cord accessible.
7. Secure your service door
A service door is very convenient and stress-free to use. However, burglars are most likely to use a service door when breaking in as this protects them from the prying eyes of the neighbors. Most garage service doors installed in the exterior have standard locks that can be broken into a well-placed solid kick.
You can reinforce your door security using a deadbolt. Remember that the strike plate is your door's weakest point. Reinforce your strike plate and use one that has a minimum of 3-inch screws to secure it.
8. Protect your home entry door
As you reinforce garage security, do not forget the door that leads into your home from your attached garage. A burglar gaining access to your home can turn into a very dangerous situation quickly. Never forget to lock your entry door behind you.
Work on reinforcing the strike plate of your entry door and hanging a solid core door alongside a deadbolt. A garage entry door also makes the perfect spot for a sensor – either connected to a top home security system or a standalone one.
Conclusion
If you reside in Toronto or the GTA and search for the best, most knowledgeable garage door experts Toronto, check out TBC Garage Doors.
We are a reputable company that provides professional garage door installation, replacement, and repair. We also offer emergency services, and our specialized team is available whenever you need help.
Some of our services include new garage door installation, garage door spring installation/repair, garage door sensor repair/set up, garage door opener belt installation/repair. Garage door framing, among many others. We also handle different doors, from sectional, roll up and side hinged garage doors to up and over/tilt-up canopy garage doors.