When it comes to garage doors, homeowners are becoming even more creative. Garage door windows are becoming more popular due to their aesthetic qualities. If you are wondering whether or not to install windows in your garage door, this article is for you.
Why Are There Windows on Garage Doors?
People get windows on garage doors for various reasons. One great thing about having windows on garage doors is that it lets natural light in a while your garage doors remain closed. Many homeowners want as much natural light in their garage as they do in their homes.
A well-lit garage has several benefits. You no longer have to rely on a light switch during the daytime, and you can bid that flickering light bulb goodbye. With windows on your garage doors, you can carry out your daily tasks without worrying about your vision.
However, the most significant benefit of natural light is energy savings. With windows in your garage doors, you won't have to turn on your garage lights as often. This will also eliminate the chances of you forgetting to turn off the lights, saving you a substantial amount of money as time goes on.
Also, if you get a properly insulated door and small enough windows, your thermal resistance should remain nominal.
Garage door windows are also a great aesthetic touch. They can elevate the appearance of your garage, giving it a more sophisticated look. Depending on the size of your windows, people can appreciate the beauty of your garage from outside without having to enter your home.
Do Garage Doors With Windows Cost More?
The short answer is yes. Glass panels are more expensive than the standard garage door panels. Also, the fancier the Glass, the more it will cost. Etched Glass usually costs more than plain Glass, and reinforced Glass is more expensive than standard Glass. However, the differences in pricing are not as much as you would expect. The aesthetic boost from the upgrades is well worth the price. Bear in mind that garage doors have a direct impact on the market value of your home. This means that an aesthetically pleasing garage door can boost the value of your home to the degree that covers the cost of the glass panels.
The workmanship costs from crafting a garage door with glass inserts will make a garage door with windows cost more. If you are on a tight budget, the price of installation might deter you a bit.
Do Garage Door Windows Break?
The short answer is yes. Garage door windows are breakable. If you have a family with active or clumsy children, your garage door windows can be vulnerable. Children often play in the driveway, putting your garage door at even greater risk. If you decide to install windows in your garage door, your children might need to find another playground where they cannot break any glasses.
Even though uncommon for garage doors, in certain instances, a sealed garage door with double pane windows, also known as thermopane windows, can break with small fractures appearing in the corners.
What Causes a Thermopane Window to Break?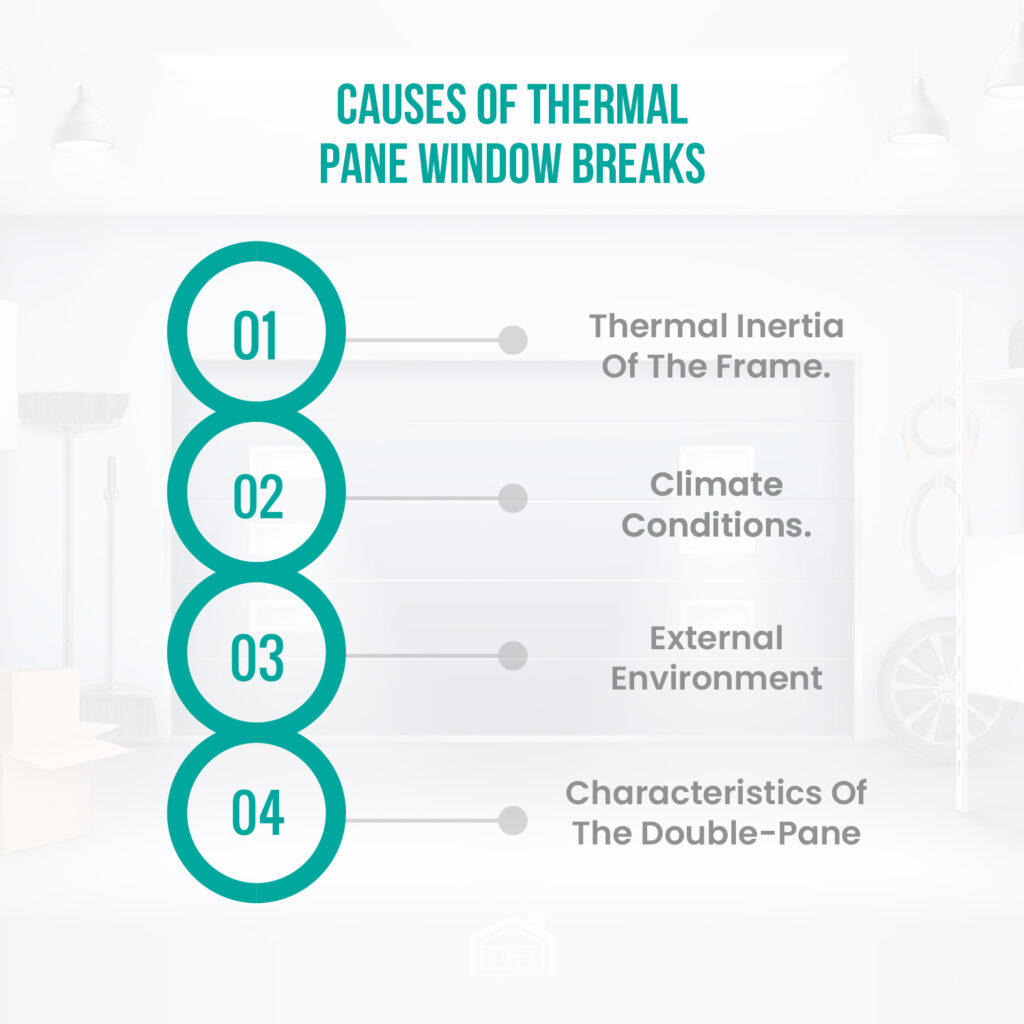 A thermopane window often breaks from thermal shock caused by stress generated by temperature variations between two areas between a pane of glass. This variation can be caused by a window exposed to direct sunlight and a shaded section. Under the effects of the sun, your garage windows heat up even more with higher energy absorption.
If a portion of the window remains cold, it stops the hot section from expanding freely. This action generates compressive and tensile stress respectively in the hot and cold parts of the double-pane window. Because Glass is less resistant to traction than compression, the tensile stress generated will probably be higher than the tensile strength of the Glass, causing breakage.
This type of break is often observed at the edge of the window, at the coldest part of the frame and is marked by a perpendicular fracture at the edges of both sides of the Glass.
Some of the cases of this break include:
Thermal inertia of the frame
The frame temperature can take longer to adapt to external conditions if the thermal inertia of the frame is higher. The frame colour can also be responsible for some of the effects on the phenomenon.
Climate conditions
The difference in temperature within a double-pane unit most times depends strongly on the intensity of the solar radiation that reaches. This intensity can be based on the time of the day, the unit's orientation, the season and the maximum difference in temperature between night and day. Double pane units which face the north have little risk of thermal breakage due to their limited exposure to the sun.
External environment
The external environment of your house, such as tree shadows, may provide extended or partial shade for your garage door windows. The interior environment inside a garage can also significantly increase the difference in temperature between cold and hot areas of the unit.
Characteristics of the double-pane unit
A glass that has reflective film affixed will absorb more heat than clear glass, making it susceptible to thermal breakage. Glass with a higher absorption factor will heat up more under the effect of sunlight.
What Are The Pros and Cons of Garage Door Windows?
Pros
There are several pros and cons of getting windows in your garage doors. Some of these pros include:
Garage door windows brighten up your garage by allowing extra light into the area. A garage with several windows might not require lights to be turned on during the DAY.
Garage door windows can also allow the entry of heat into the garage from the sun. This can be positive during the wintertime.
Windows on your garage doors can create an extra dimension to your garage by breaking up the solid panels.
Garage doors give you more options when deciding on garage door designs.
Most windows are stain-resistant and a lot easier to clean than painted panels. They rarely need repairs and require zero maintenance.
Garage door windows make the garage match other parts of the house. You can get your garage door windows customized to match the other windows in your house, thus creating a more streamlined appearance all through the home's exterior.
After considering all the functional and aesthetic benefits of garage door windows, there are certain concerns to look out for before putting windows in your garage doors.
Cons
Some of the cons of installing a garage door with windows include:
Glass is fragile and can break. This means you have to be extra careful with your garage doors to ensure the Glass does not shatter. You have to avoid slamming your garage doors to the ground whenever you close them if they are fitted with Glass.
Garage doors with windows are susceptible to accidents or flying debris. You might want to invest in impact-resistant Glass if you choose windows on your garage doors. Glass that is vulnerable to impact will only ruin your garage door and make you incur more costs.
Windows attract thieves. If you live in an area with many burglars, they will find breaking into your home a whole lot easier with garage door windows. All they have to do to gain access into your home is break the Glass. As soon as you install Glass into your garage doors, you need to ensure that locks and other items are not accessible through the windows. It would be best if you also reinforced your garage door security.
Insurance companies may increase your insurance rates if you cannot prove that your home is secure, even with windows in the garage doors. Confirm with your insurance provider what the policy covers in the event of a break-in.
How Much Does a Garage Door With Windows Cost?
On average, a garage door can cost between $450 to $8,000 for installation. The average ranges between $500 and $2,000, with the majority of homeowners spending around $1000 to install a new sectional steel garage door. If you have a tight budget, you can buy a non-insulated steel garage door for $500 minus installation. A custom redwood garage door with glass windows and an automatic opener costs about $4,500 after installation on the high end. Including windows in your garage door usually costs $30 to $60 per installation.
Conclusion
If you reside in Toronto or the GTA and search for the best, most knowledgeable garage door experts Toronto, check out TBC Garage Doors.
We are a reputable company that provides professional garage door installation, replacement, and repair. We also offer emergency services, and our specialized team is available whenever you need help.
Some of our services include new garage door installation, garage door spring installation/repair, garage door sensor repair/set up, garage door opener belt installation/repair. Garage door framing, among many others. We also handle different doors, from sectional, roll up and side hinged garage doors to up and over/tilt-up canopy garage doors.