Choosing an automatic garage door for your home can be one of the hardest yet most important decisions to make. Your garage door is more than just protection for your car. It is the key feature of your house's exterior that serves as an entrance, and it also adds to the curb appeal.
Although the main purpose of your garage is to keep your vehicles safe, it can also be used for other purposes. You may store various items you don't want to have in your house in your garage. However, garage security is very important, and you can only use this space to your advantage if you have a quality garage door.
Generally, garage doors are grouped into two – automatic garage doors and manual garage doors. Many homeowners are often confused about picking the right type of garage door to suit their needs. In this article, we have helped simplify choosing a garage door by highlighting the main differences between both types of garage doors. If you want to discover which garage door is best for you, keep reading.
What Is An Automatic Garage Door?
An automatic garage door is a garage door connected to a mechanism that controls its closing or opening. The mechanism is activated with the push of a button.
Usually, automatic garage doors are hard-wired into the house. This is done so that you can control the garage door from a button on the wall. Most automatic garage doors also come with a garage door remote, allowing you to close or open the garage door from the driveway.
Newer models of automatic garage doors are now Bluetooth enabled, granting you access to your garage door remotely via an app on your phone or some other smart device.
What Is A Manual Garage Door?
A manual garage door is a garage door that is controlled manually. It has to be closed and opened manually. Most manual garage doors are basic doors and are found in older homes. Usually, these doors are affixed on large hinges and operated by lifting the door physically during opening and closing.
Manual doors are significantly lighter in weight and do now require cables or motors to be installed. All you need for a manual garage door installation is a torsion spring system. This makes them easier to install than automatic garage doors.
Differences Between Automatic And Manual Garage Doors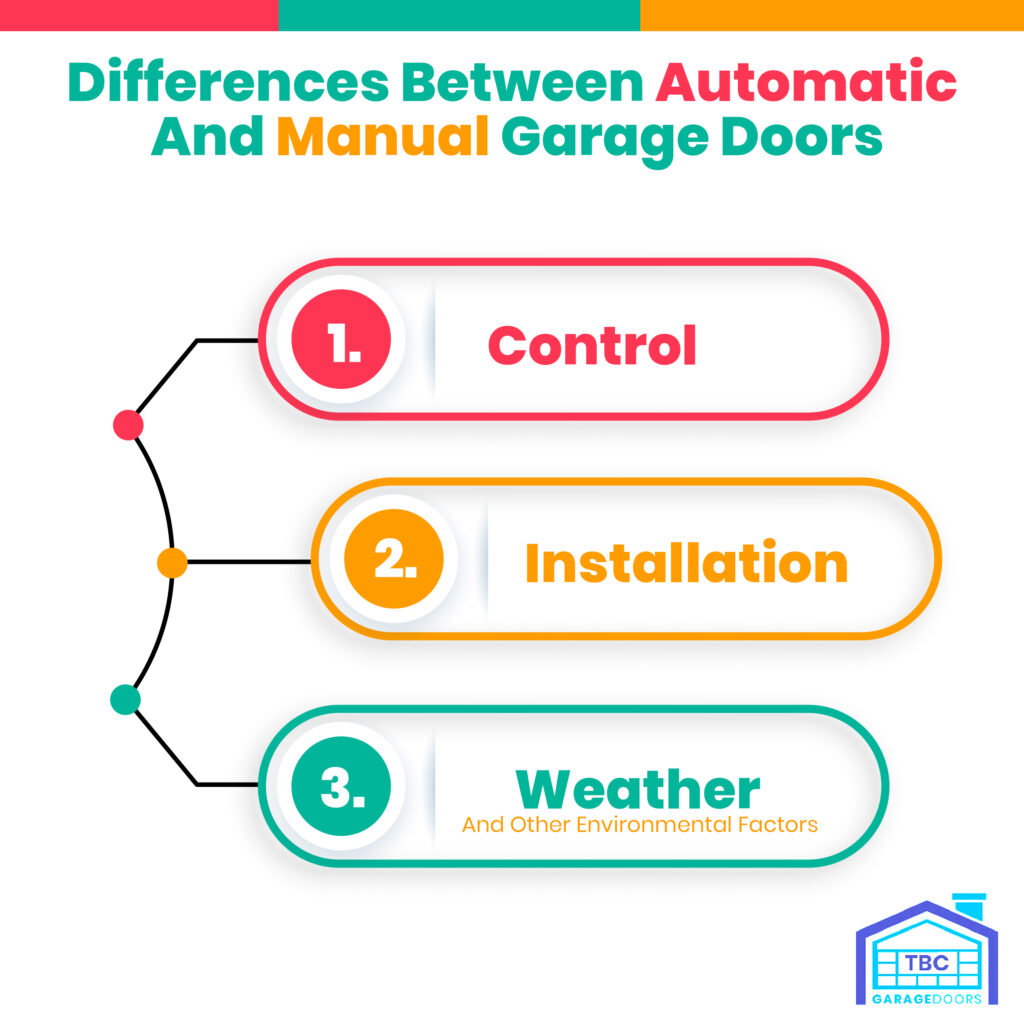 Certain features differentiate an automatic garage door from a manual garage door. Although most times, their aesthetics are the same, and you cannot tell which is until they are operated, there are still clear distinctions between both types of doors.
Some of these differences include:
1. Control
One of the biggest selling points for automatic garage doors is the garage door remote control. Being able to open your garage door conveniently from inside your car after a long day at work makes coming home just a bit more pleasant. On days where the weather is bad, this feature of automatic garage doors is even more appreciated. With a manual garage door, you need to brave the snow or rain to get to your garage door and then make it back to your car to drive in.
Bear in mind that if you keep a garage door remote control in your car permanently, you should get another one for operation at other times. A second remote control will make your life around the house a lot easier. It will also save you if the other control goes missing. It would be best if you also had a push-button control on the inside of your garage door. Moreover, it is only ideal that a person inside the garage should always open your garage door.
Most automatic garage doors are typically fitted with manual unlocking/locking mechanisms. Most automatic garage doors function using electricity, and this places manual garage doors above automatic garage doors in certain instances. If there is a fire, for instance, and the electricity supply has been disrupted, a manual functioning garage door could save your life. Although you may never use this manual unlocking and locking system, automatic doors must have the failsafe mode of a manual system.
2. Installation
An automatic garage door is significantly harder to install than a manual garage door. In fact, with automatic garage doors, a certain level of familiarity with technology is required before one can attempt a DIY. However, the garage door installation happens just once and most times is the responsibility of experts in garage door Toronto. Whether you are converting your old manual door to an automatic one or starting from scratch, the installation will take a considerable sum of money and time to be done right.
Of course, DIY will take more time and is not usually advisable for automatic doors. Although it is possible to get the hang of installing an automatic garage door yourself, what will usually be a quick job for the experts will take you days as an amateur. Most garage doors are large, and their sheer size alone can make installation tricky. You could easily injure yourself as you attempt to put an automatic garage door in place.
3. Weather And Other Environmental Factors
As the months go by, weather conditions tend to change, having adverse effects on manual garage doors, causing them to get stuck or make the panelling peel. However, with automatic garage doors, you do not have to worry about these effects as they are typically resistant to the adverse effects of unstable conditions.
However, the performance and appearance of your door may be affected by certain chemicals which do not mix well with the dor material. A little soap and water wipe from time to time can remedy such scenarios.
It would help if you lubricated metal garage doors – whether manual or automatic regular to make closing and opening easier. You should protect wooden garage doors from heatwaves and termites with proper treatment and maintenance.
Which One Is Right For Me: Automatic or Manual Garage Door?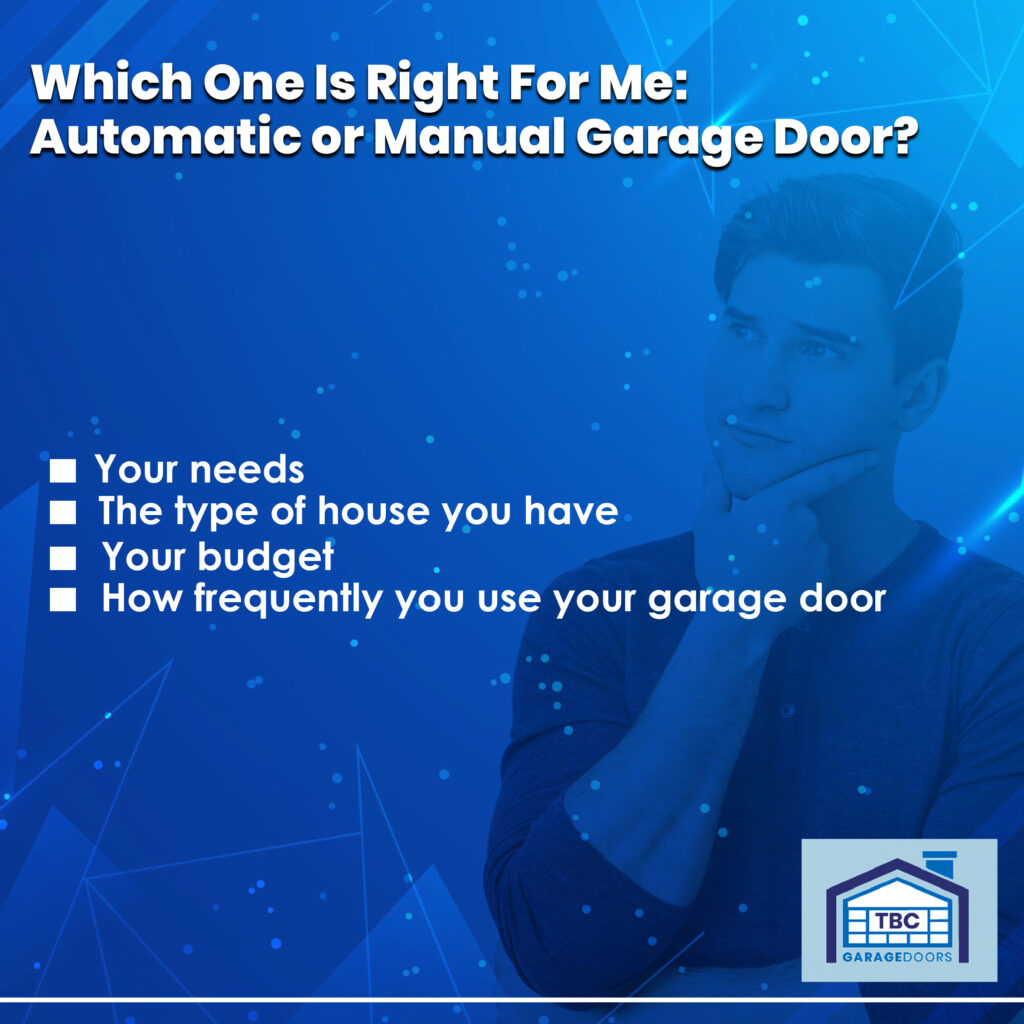 The question of which garage door is right for you is subject to various factors such as:
Your needs
Your budget
The type of house you have
How frequently you use your garage door
Let's take a look at both types of garage doors compared side by side.
Cost
When it comes to cost, manual garage doors are the more affordable option. They are easier to maintain and install and are the ideal option for homeowners on a budget. The market is filled with automatic garage doors that will not break the bank, so depending on your budget, you could have a look around. The choice of garage door installed at the end of the day should be the homeowner's preference. However, you might want to invest in an automatic garage door if you consider selling your home in the future.
Convenience
Most homeowners would prefer an automatic garage door as a convenience. Automatic garage doors allow you to gain access in and out of the garage without having to exhaust yourself physically. Automatic garage doors are a better option for places where the weather is in extremes, shielding people from the discomfort of getting too hot or too cold.
Maintenance
A manual door is easier to maintain than an automatic garage door. If your garage door is regularly used, you can expect normal wear and tear on the prints and tracks. Automatic garage doors need more maintenance than manual garage doors because they have more complex parts such as motors to ensure that they function properly.
Safety and Protection
Manual garage doors offer more protection from intruders because they are hacker-proof. They can also be secured or fastened without the worry of causing any harm to the mechanisms on the door. Automatic garage doors have inbuilt safety protection that prevents the garage door from closing on animals, people, or objects that might be in the way.
Conclusion
A lot of homeowners do not consider their garage door preferences before choosing one. However, a garage door is as important as the front door as they serve almost the same purpose. When deciding between automatic and garage doors, you need to consider the opening mechanism and material of the door. Before choosing the perfect garage door, carry out some more research and choose what door will work best for you.
If you are a new homeowner, check out TBC Garage Doors for your automatic and manual garage door solutions. We can save you the stress of finding an excellent garage door Toronto.
We handle different doors, from over/tilt-up canopy garage doors, sectional garage doors, rollup garage doors, and side-hinged garage doors.
Our services also include garage door spring installation/repair, garage door framing, new garage door installation, garage door opener belt installation/repair, among many others.
All our technicians are licensed and insured, and we offer you affordable pricing with a 90-day guarantee. We are available 24/7 and offer emergency services. Contact us for the best garage door repair/servicing experience.