There are several benefits of using mailbox locks. Indeed, mailboxes are an essential aspect of every home. Every letter addressed to you is supposed to end up in your mailbox. From personal mail to more sensitive, important information, a mailbox is easily a treasure chest for the wrong people.
Due to the nature of the information carried in your mailbox, you need to ensure it is protected at all times. In this article, discover all you need to know about mailbox locks and how to protect your information from identity thieves.

Are Locking Mailboxes Worth It?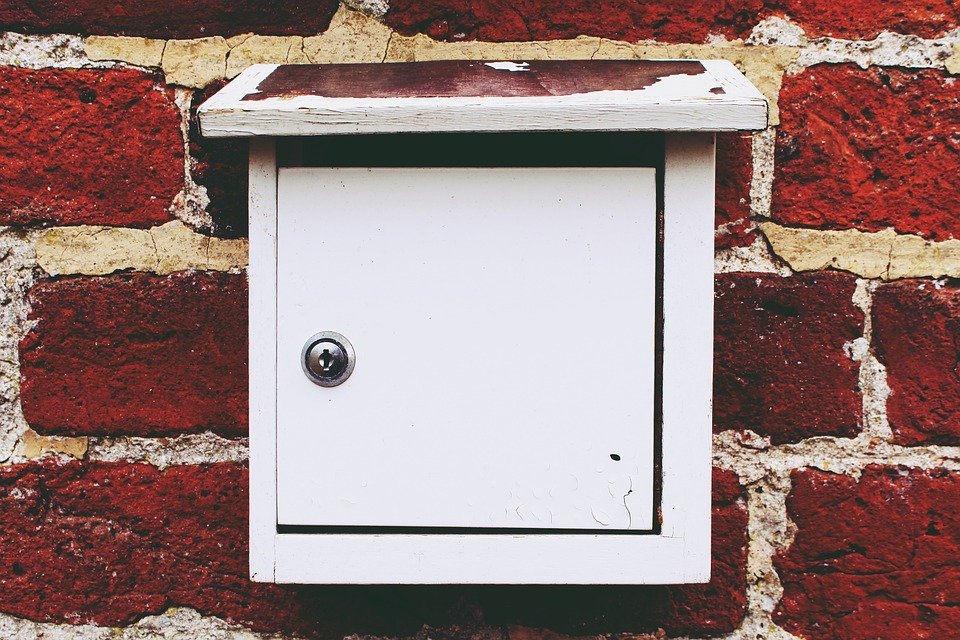 A locking mailbox doesn't sound like much, but it will afford you more control over your mail while deterring thieves. Always consider your mailbox a jackpot for identity thieves, and remember that most potential thieves will give up on picking your locks before they try.
Locking mailboxes protects your mail and identity. Thieves can find medical records, social security numbers, bank accounts, and a lot of other sensitive information. These details are more than enough to claim insurance and rent property in your name.
Bear in mind that all locking mailboxes are not built the same. Some can be easily broken into using a screwdriver, so make sure you carry out your research before buying one. If you feel a locking mailbox may not be the best option for you, you should look into other options to keep your mail safe.
Continue reading to discover more ways to make your mailbox more secure.

How Can I Make My Mailbox More Secure?
Although there is no 100% guaranteed way to ensure that your mail is secure, you can still take some measures. These suggestions will help you stay informed on what mail you're expecting, making it more difficult for unauthorized people to access your mail. Here are a few things you can do to ensure that your mailbox is more secure and you are able to enjoy all the benefits of using mailbox locks:
1. Ensure you check your mail regularly
It is generally inadvisable to leave mail in your mailbox for a longer time than necessary. Try not to leave letters in your mailbox for too long. If you must, invest in a locking mailbox or a secure mail slot to keep your letters from prying hands. If you have letters to put out, be careful to deposit them in a secure post office mailbox. Also, if you are expecting any mail, check with the sender to confirm it was sent if it hasn't come after a while.
2. Stop mail delivery if you are going away
If you are out of town for a while, you should speak to your mailman about putting your mail delivery on hold. For the duration you will not be home to receive mail, it is best if no mail gets sent to your house.
Not only is this a great way to avoid identity theft, but it is also a great way to prevent break-ins. Burglars have been known to scope houses, and unattended mail is a dead giveaway that no one is home.
3. Shred your junk mail, and remember to keep your mail out of sight
Identity thieves are very persistent. They are likely to look for information in other places. Avoid leaving your mail where thieves can easily find it, such as in your car. You should also not carry sensitive mail around, except you need to.
After sorting your mail, the best practice is to sort to shred your junk mail. Do not discard your junk mail without shredding it. Irrespective of where they get it from or the form it is available in, identity thieves will take whatever information they need. Remember that these people are desperate criminals who do not mind digging through trash if that's what it takes.
4. Remember to report any incidents of theft
May homeowners fail to report incidents of theft or vandalism of their mailboxes. A lot of people feel it is not worth the hassle, whereas it is the exact opposite. Immediately you notice our mailbox has been tampered with; you should complain to your postmaster or at the post office.
This report is very important as the post office has to investigate whether the occurrence was an isolated incident or a regular occurrence in your neighborhood. Your report can also save other people's letters from being stolen as they will become more alert and on the lookout for suspicious activity.
5. Maintain your mailbox in good condition
A lot of homeowners tend to neglect the condition of their mailboxes. Instead of letting your mailbox fall apart, keep it clean and try to spruce it up. A clean mailbox is an indicator that you care about your mails' state, and you check them regularly.
Thieves and vandals are less likely to break into your mailbox if they feel you check it daily. A disoriented mailbox shows you do not care and are less likely to notice if any of your letters have been stolen. It will also make your mailbox a more likely target for thieves.
6. Move your mailbox closer to your front gate
A great way to increase your safety is by going against the norm. Instead of mounting your mailbox close to the street, consider moving it closer to your front gate. This might seem like a pretty insignificant step, but repositioning your mailbox is a great way to prevent potential theft and even vandalism. You can also go the extra mile by installing cameras overlooking your mailbox. Cameras have been known to scare away thieves and vandals.

How Does the Mailman Get into a Locked Mailbox?
One concern many people have is how their mailman will deliver their mail into a locked mailbox. If you're wondering whether your mailman will need a key to get into your box, the answer is not. Most laws prohibit mailmen from carrying keys for residential mailboxes.
Most locking mailboxes work in the same way. The mail carrier passes your mail through an incoming mail slot. This slot is usually big enough to accept mail but too small for a prying hand to reach.
As soon as your mail is in a locking mailbox, your incoming mails are protected from identity and mail thieves. You can also go the extra mile and install an anti-pry latch or any similar mechanism to prevent unauthorized entry. Professional mail thieves can access your mailbox using just a screwdriver or other items you can find around the house.
Depending on the model of the locking mailbox, it may be locked at the front, rear, or on both ends. The homeowner takes out mail by unlocking the door for mail removal and retrieving their mail.
What Are the Benefits of Mailbox Locks?
If you are wondering why you should get a mailbox that locks, here are a few benefits of using mailbox locks.
1. Lockable mailboxes are more durable
If you live in an area prone to vandalism, you might want to look into getting a more durable mailbox than the regular mailboxes. Even if you live in a relatively safe area, you might have pesky children who might attack your mailboxes for no reason. Most mailboxes with locks have been welded for extra durability and exceptional strength compared to traditional mailboxes made from aluminum or plastic. These mailboxes can endure several hundred pounds of pressure without showing any deformation or cracking.
2. They help to prevent mail theft
To protect sensitive mail from being stolen, a mailbox designed with a security lock can help. So many people do not realize how easy it is for your mail to get stolen by identity thieves. Once they get their hands on your mail, they can obtain your information and use said information against you, especially during the tax period. There are many other things worse than you receiving catalogs in the mail when your information gets stolen. This is why a locking box is important to protect information such as bank statements, prescriptions, and even credit card details. Locking mailboxes also deter thieves as not everyone is prepared to go through the stress or has the time to break your mailbox lock.
3. Locking mailboxes hold more mail
Most locking mailboxes are a lot larger in size than your regular mailbox. This difference in size means locking mailboxes can hold a couple of days worth of mail without you having to pick up the contents daily. Regular-sized mailboxes will not close or bulge if they have a few day's worths of mail in them. If you tend to order a lot of stuff online or typically receive a lot of mail, a standard mailbox may not get the job done correctly. With a mailbox that locks, you can store a lot more mail and is perfect for trips and vacations where there is no one to help you collect mail. Due to their bigger width, these mailboxes work fantastically to keep your mail from getting wrinkled.
4. Locking mailboxes are environmentally safe
Most mailboxes are made with paint that can chip and peel with time or aluminum that can easily rust. However, most mailboxes with locks are made using environmentally safe powder coating. For a long-lasting, resilient coated finish, these mailboxes receive a dry painting that helps to bake the coating on. The result is an appealing, high-quality finish that will be around for years.

Conclusion
So, there are the benefits of using mailbox locks in your home. If you are in Toronto or the GTA, contact TBC Locksmith for your top-notch smart lock solutions today. Our services include smart lock install and repair, rekeying keys, and making new keys.
We are available 24/7 to offer proper security solutions. At TBC Locksmith, we are fully equipped with a large inventory of high-quality locksmith tools and products to ensure we promptly respond to your needs.
All our locksmiths are insured and licensed, and we offer affordable pricing with a 90-day guarantee along with our emergency locksmith services. Contact us today for all your locksmith needs.