Five Garage Door Safety Tips for Preventing Burglary
Keeping your home secure is very important and learning some garage door safety tips would help. As a homeowner, you need to ensure that your family and belongings are safe from intruders. One major point of entry for burglars that most people tend to overlook is the garage door.
A lot of people have experienced burglars breaking into their houses. Most times, the burglars gain entry through the garage door. If care is not taken, your garage can quickly become a hideout for criminals on the run or thieves looking for a quick buck.
In this article, discover various ways to reinforce your garage door, as well as safety tips for preventing burglary.
Five Garage Door Safety Tips
To ensure that your garage door remains safe, try out the following safety tips:
1. Lock-up Your Tools
If you are in your garage regularly working with tools, transporting them every time you need them might not be the most convenient option. Invest in garage cabinetry with locks to keep your tools safe.
2. Zip-tie Your Emergency Door Release
Zip-ties are one of the cheapest safety tips for your garage door. If you have an automatic door opener, you have an emergency lever with a red cord attached. This lever's main purpose is to allow you to close or open your garage door when there is a power outage.
However, this innovation could be exploited by a burglar. By pushing the garage door's top in and creating enough gap, they could reach for the lever or cord. Once they gain access to this emergency door release, they can gain access into your garage. This can cause garage door problems.
Use a zip-tie to secure your release cord or lever to prevent tampering. If you need to use the lever during a power outage, simply cut off the zip tie and replace it once the power comes back on.
3. Keep Your Garage Windows Covered
Thieves have been known to peer into garages through the windows for surveillance. Through your window, they can confirm no one is home if there are no parked cars. They can also take note of valuable tools or equipment that you have lying around.
You can get garage window curtains or consider frosting your windows in a bid to make the burglar's job as difficult as possible.
4. Maintain Your Garage Door
Old garage doors with faded paint and wrapped wood do a lot more than ruin your home's aesthetic. Worn-out garage doors are a big security liability. Openings or gaps on the run-down garage door can make it a lot easier for a burglar to gain access into your garage.
If you have garage door problems, contact garage door experts to replace it with a more modern style.
5. Keep Your Garage Door Locked
If you need to open and close your doors manually, you should ensure that they are always locked. If you are away from the house for a long time, for example, if you're going on a vacation, you should clamp a padlock on the door tracks.
With older door openers, you can unplug the automatic opener when you are away for a long while. You should also keep the interior garage access door and exterior garage service door locked.
How Can I Make My Garage Door More Secure?
Making your garage door secure should be the priority of any homeowner. There are a few steps you can take to beef up garage door security. Some of these include:
Avoid Leaving Your Garage Door Remote in Your Car
Although it might seem convenient to toss your garage door remote in your glovebox or attach it to your sun visor, it is not advisable. One of the first places a burglar will check for your garage door remote is your car. Instead, keep your remote in your coat pocket or purse. Better still, take the remote indoors with you and place it together with your car keys.
Get a Lock For Your Garage Door
If you open your garage door manually, you should look into installing a handle that locks. Putting a lock inside the garage door can also deter burglars. Lock the garage door the moment you get in to prevent intruders from gaining access into the garage.
Install Security Cameras
Most times, burglars tend to avoid houses with security cameras. It is a lot easier to catch a burglar when you have an idea of their clothing, facial features and other physical attributes. You can purchase a motion-activated camera which starts as soon as someone approaches on foot or a car pulls up in the driveway.
Install Motion-detecting Floodlights
A lot of times, burglars operate under cover of darkness. Most times, a sudden burst of light is enough to throw them off. You can purchase motion garage door safety sensor flood lights online and send thieves running.
Frost Your Garage Windows
Many potential burglars tend to peek in windows, hoping to catch a glimpse of valuable tools. Before a thief breaks into your garage, they need to be sure that no one is home. Obscure your garage windows by frosting and make your garage door secure.
How Do I Protect My Garage Door From Burglars?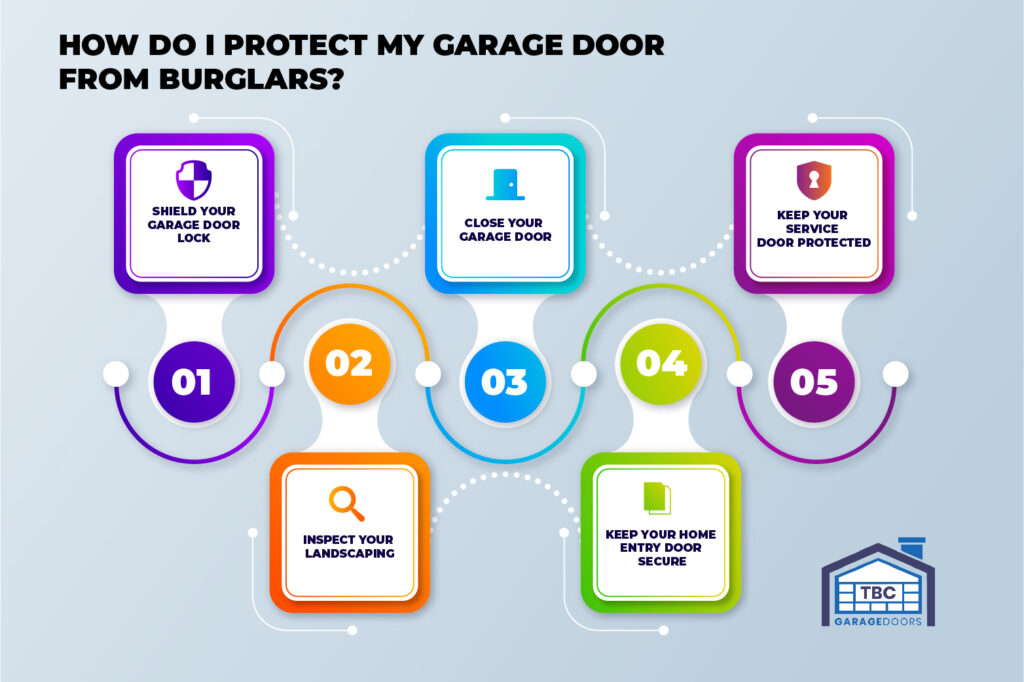 Keeping your garage safe from burglars involves protecting your garage door. You want to ensure the safety of your loved ones and valuables by keeping out thieves.
Here are a few things you can do to protect your garage door from burglars:
1. Shield Your Garage Door Lock
Many burglars can open your door lock in less than a minute using a coat hanger. You can purchase a garage shield for your garage doors emergency cord, making it impossible for a burglar to gain access via that means.
2. Inspect Your Landscaping
Ensure that passersby and neighbours can see everything going on around your garage. Clear away shrubs and large trees and keep all entry points visible from the street. You can plant small shrubs with thorns under floor garage windows to prevent burglars from breaking in.
3. Close Your Garage Door
Many homeowners are guilty of leaving their garage doors open. A garage door that is left wide open is an invitation to burglars. You can install an automatic lock as garage door safety features that deadbolts your door lock the moment you step in.
4. Keep Your Home Entry Door Secure
Make sure that the door leading from your home to your attached garage is secure. Once a burglar gains access to your house, the chances are high that you run greater risks. Remember to keep this door locked at all times.
5. Keep Your Service Door Protected
Burglars like to hope in and out of a discreet side door away from the prying eyes of neighbors. Many standard garage doors can be opened with a few simple changes or a well-placed kick. Reinforce your exterior door security with a deadbolt. The strike plate where the lock meets the door is the weakest point. Try replacing the strike plate with a more reinforced one, using a minimum of 3-inch screws to secure it in place.
What Type of Garage Door is Most Secure?
Roller doors are considered the most secure garage doors because of the nature of their design. These types of doors have compact installation, with no visible leverage points on their aluminium curtains. The lack of leverage points makes it harder for burglars to break into.
Automated roller doors particularly do not give intruders any clear entry point or much leverage to work with. When picking a roller door, go for one with strengthened top and bottom slats, high-quality side railing and a sturdy locking system. A roller door made from double-skinned metal is also a much more secure option.
Are Garage Door Keypads Secure?
Garage door keypads are very secure. Although no security feature is 100% fail-proof, garage door safety features such as keypads are convenient and with the purchase.
Unlike garage door openers, keypads cannot be lost, broken or accidentally run over. A garage door keypad is a permanent fixture, typically located at the exterior of the home. With keypads, you have the option of over 10,000 combinations. This makes it very difficult for your passcode to be guessed.
You can make the most of your keypad by doing the following:
Keep the door between the garage and our house locked for extra security
Ensure that your permanent code is kept private
Regularly clean the buttons on your keypad using a degreaser and a cleanser to keep the numbers clear
The moment you feel your code has been compromised, change it
Conclusion
If you reside in Toronto or the GTA and need a garage door expert, check out TBC Doors. We are a reputable company that offers professional garage door installation, replacement, and repair. We also provide emergency services, and our specialized team is available whenever you need help.
Some of our services include new garage door installation, garage door torsion spring maintenance, garage door sensor repair/set up, garage door opener belt installation/repair.