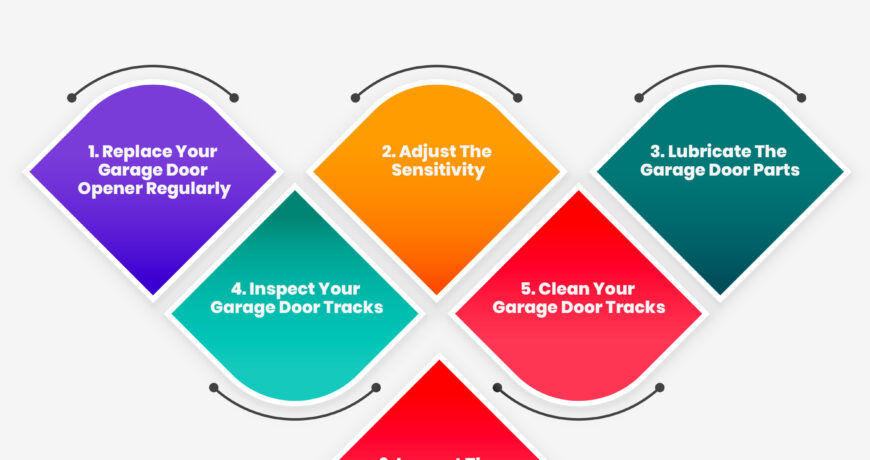 What To Do If Your Garage Door Is Stuck
A stuck garage door is a true nightmare for most homeowners. Your garage door is in use almost and needs to remain in proper working condition. If you have a stuck garage door, this is the article for you.
Discover how to close and open your garage door hassle-free.
How To Open a Stuck Garage Door
There are different situations where your garage door can get stuck. Your door can be stuck on one side, stuck closed, or even stuck halfway opened. Here's how to remedy the problem of a stuck garage door:
Your Garage Door Is Stuck On One Side
If your garage door is stuck on one side, it could be a problem with the garage door tracks, insufficient lubrication or broken garage door springs. If this is the case, call an expert in garage door Toronto to check it out.
Your Garage Door Is Stuck Closed
Try not to panic if your garage is stuck close. If you can't get your garage door to open from inside, here is a simple guide to open it manually
Begin by unlocking any latches and locks to ensure that you can open the door manually without the mechanism interfering
Disconnect the garage door opener by unplugging the motor
Locate the emergency release cord and pull on it. The emergency release handle is colored red and located in the middle of the door track. Make sure the garage door is fully closed before pulling it down.
Lift your garage door until it stops moving. Ensure that the door stops moving before letting go, else it can close rapidly and cause an accident.
Your Garage Door Is Stuck Halfway
If your garage door is stuck halfway, the first step is to close it fully. Next, pull down the emergency release and attempt opening the door again. If you are successful, the problem is with your garage door opener. However, if your garage door gets stuck again, do not hesitate to call an expert in garage door Toronto.
Your Garage Door Is Stuck Open
The first thing to do if your garage door is stuck open is to check that the garage door springs are not broken. Once this is confirmed, you can pull on the emergency release. Note that as soon as you pull the lever, the door will come crashing down. This rapid fall will damage the garage door and anything underneath it. Place a log of wood between the door and the floor to prevent any damages to the door and other injuries.
Why Is My Garage Door Stuck?
Some probable reasons for your garage door getting stuck include:
Broken Garage Door Springs And Drums
Your garage door performs a lot of high-duty tasks, causing its parts to be prone to breakage. Typically, your garage door has metal drums that lift the door by working with the cables on every side. These metal drums can be damaged or blocked.
It is not advisable to repair or replace broken springs yourself. Contact a garage door expert if you have a stuck garage door to avoid any injuries a DIY approach can cause.
Extreme Weather Conditions
Extremely hot and cold temperatures can affect your garage door negatively. A fluctuation in temperatures can cause garage door rails to expand and contract, causing inevitable damage. These weather changes could result in a stuck garage door, requiring the adjustment of the door opener. Contact an expert in garage door Toronto to help adjust the pressure of the door opening mechanism.
Sensor Obstructions
Both sides of your garage door are fitted with sensors. Obstruction of the sensors can cause your door to get jammed. Believe it or not, as tiny as a spiderweb is, it can cause your sensor to be blocked. Carefully inspect the sensors at each side and sweep the webs away.
Blockages
Small stones, leaves, and dirt stored in your garage door tracks can cause blockages. This debris prevents your door from opening and closing properly. You may have a stuck garage door due to a small foreign object being stuck. Carefully examine your garage door tracks, hinges, and rollers for dirt and debris.
Trolley Issues
After you check the garage door opener and ensure it's working, observe the trolley carriage. Does your trolley need a replacement? A garage door expert Toronto can get that fixed quickly for you.
Chain Issues
The chains on your garage door are an important part of the door opening mechanism. When used every day, they become weaker due to the weight of the heavy garage door and the vibrations from the motor. You might have a stuck garage door due to worn-out chains.
How Do I Fix A Stuck Garage Door?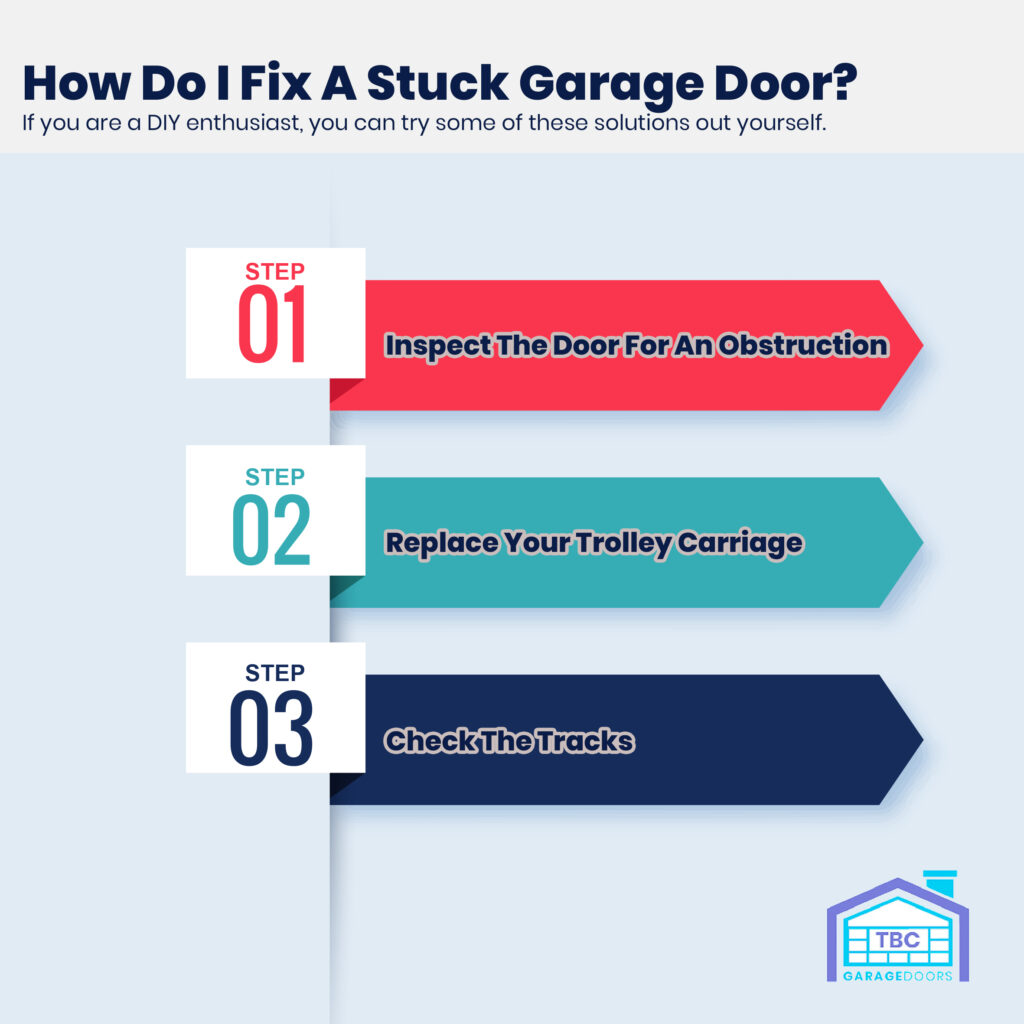 Now that you know why your garage door is stuck, the next thing is to learn how to fix it. If you are a DIY enthusiast, you can try some of these solutions out yourself.
Inspect The Door For An Obstruction
Inspect every part of your garage door for an obstruction. Check the garage door tracks, hinges and rollers, as these parts can leave you with a stuck garage door if they malfunction. Once you find the obstruction, remove it and lubricate the garage door tracks and hardware with silicone-based oil or grease.
Replace Your Trolley Carriage
Begin by turning off the breaker or disconnecting the motor unit from electricity. Next, pull the emergency handle and close the door manually. Place your ladder beneath your trolley and take it out. Replace the new carriage onto the rail and affix the rail to the wall bracket. Ensure that you connect the motor correctly back to the power outlet and check if your new trolley functions properly.
Check The Tracks
Check your garage door tracks for signs of damage. If you notice the tracks are a bit uneven or bent, they require attention. Take a hammer, place a wood plank or thick fabric in between and straight the track. You can call an expert in garage door Toronto if you cannot handle straightening the tracks yourself.
How To Prevent My Garage Door From Getting Stuck
You can prevent your garage door from getting stuck by taking the following steps: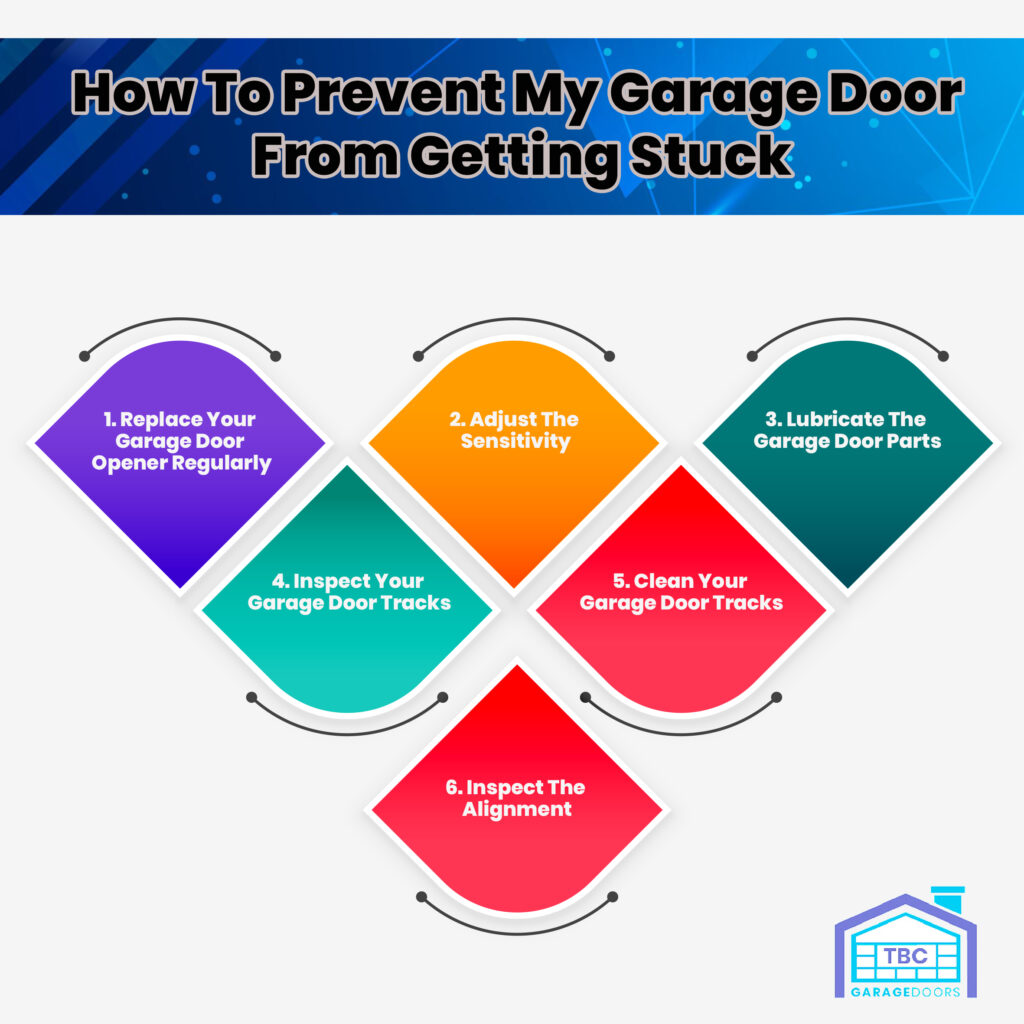 1. Replace Your Garage Door Opener Regularly
Over time, your garage door opener suffers wear and tear, causing it to become damaged. Once you ascertain the door opener is the problem, contact an expert to get it fixed.
2. Adjust The Sensitivity
At times, your door opener sensitivity might be too high. This can cause the sensors to think something is in the way, resulting in a stuck garage door. Adjust your sensitivity levels and observe if you still have to deal with a stuck garage door.
3. Lubricate The Garage Door Parts
You might have a stuck garage door because its components need to be lubricated. The great news is that this problem has the easiest fix. Spray a garage door lubricant along the tracks, chain, and rollers. Ensure that you apply it along the entire track and every roller very generously.
4. Inspect Your Garage Door Tracks
Based on how often your garage door is out to use, the tracks can become slightly damaged over time. This damage can cause a stuck garage door.
Inspect the tracks of your garage foot opening system for any bumps, nicks or dents. Try to get any damage you find repaired as soon as possible because using a damaged track will only aggravate whatever problems your garage door has.
If you notice your tracks are not straight, place a wood block on the affected area and hammer to straighten out the track. Avoid hitting the tack directly with the hammer, as this can cause more harm than good.
5. Clean Your Garage Door Tracks
If you observe that your tracks are dirty, clean them along with the rollers. This can stop your garage door from getting stuck. A buildup of debris, dust, and dirt can block your garage door's path, causing it to get stuck both on its way up and down. Clean off any grime and dirt by wiping the rollers and tracks.
This will help increase the lifespan of the parts of your garage door while preventing your garage door from getting stuck.
6. Inspect The Alignment
One of the most common reasons for a stuck garage door is misalignment. When your garage door is misaligned, it shuffles up the tracks, causing it to get stuck on the way down or up.
Take a look at your garage door springs to ensure that they have the same amount of tension. If you notice one or both of them are loose, it can trigger an uneven movement of your garage door along the tracks.
Inspect the alignment of the tracks, and if they do not appear to be level, loosen them up and tap them back until they are straight, then re-tighten the screws. Moreover, you can use a laser level or a simple level tool to check the levelness of your garage door.
Conclusion
If you reside in Toronto or the GTA and need a Toronto garage door repair expert, check out TBC Garage Doors. We are a reputable company offering professional garage door installation, replacement, and repair. We also provide emergency services, and our specialized team is available whenever you need help with garage door spring and cable repair.
Some of our services include new garage door installation, garage door torsion spring maintenance, garage door sensor repair/set up, garage door opener belt installation/repair.