The majority of the homes sold today come with a garage Toronto. Whether it is a simple one-car garage in a small condo or home or a multiple-car garage in a larger family home. Garages are pretty much a constant.
Although some may argue that garages aren't exactly a selling point for a home, believe it or not, it is considered a negative if your home is lacking one. Whether connected or detached, lacking a garage is regarded as a big problem for most homeowners.
If you wonder why a home garage is so important to homeowners, or you are building your home from scratch and wondering if you should include a garage Toronto, this is the article for you.
Discover everything you need to know about garages and why you need one.
Why Do I Need a Garage?
There are several reasons why a home garage is considered a necessity. The most common reason people need garages is their traditional function to keep your car safe.
A garage is an obvious place to store your car securely. Depending on your neighborhood, you might not have the option of street parking, making a garage a necessity. Garages keep your care safe from different conditions, including hazardous weather. Windstorms, snowstorms and bad rain won't affect your car because of the protection offered by your garage.
The combination of a home garage and a garage door Toronto can also be of great benefit to people who don't have a car or who don't make use of it every day. A garage is also a great place for people who use other means of transportation such as a bike or a motorcycle.
Garages make great storage and workspace. Many people who are big on DIY or invested in a lot of woodwork need a garage. It makes a great place for storage of their tools, and garages with soundproof walls and doors can be used as an ideal workspace.
Can You Build Your House Without a Garage?
Although not the most ideal option, you can build your house without a garage. However, it would be best if you were sure, as in some places, not having a garage can decrease the market value of your home. If you have no intentions of selling your house, however, this should not bother you.
Also, if you have no cars and live in a neighborhood where street parking is permitted, you can make do without a garage Toronto. If you do end up owning a car, you can park it on the street like everyone else, even though this may not be very safe.
Do Garages Protect Cars?
Parking the car outside exposes one of the most valuable things of the family. The safety factor differs from one locality to another, and while some areas might have the problem of theft, other areas might have the problem of vandalism. Parking the car inside a garage solves the problem by keeping unwanted elements away from the vehicle. A standard garage has a weatherstripped door, regulating the temperature in the garage.
Protection from weather elements
When you park in a garage, your vehicle is protected from weather elements. Parking in the garage ensures that elements of nature such as mud, rain, wind, slush, high heat, and other factors which can damage a car for life are kept at bay.
When a car is left exposed to the elements listed above, a byproduct that can result will be the formation of acid and dirt on the car's paint. More side effects will include a weakened clear coat and rust.
Protection of rubber components
Cars are composed of several rubber parts, including wiper blades, brushes, hoses, pipes etc. When these rubber parts are exposed to harsh weather conditions such as extreme cold conditions, wind and the sun, it can result in them wearing out prematurely.
Worn-out rubber parts can also be the cause of unwanted problems such as squeaking and rattling. Parking your car in the basement of a garage will help you avoid this problem.
Protection against UV damage
The rays of the sun are filled with UV radiation. This radiation can be harmful to your car's paint and even human skin. It can cause oxidation of metal, resulting in rusting as well as fading of your car paint.
Your car paint will last longer when you store it away from the sun by parking it in a garage.
Keeps car wax coats
Today, most cars have an expensive polish and wax coat. This wax coat, which is usually a Teflon coating, is intended to protect the main paint of the vehicle. However, if this wax or coating is not well taken care of, it loses its potency, ruining the vehicle's paint. The best way to prevent this is parking in a basement or a garage away from the sun and its UV rays.
Extends engine life
Parking a car in a garage Toronto keeps the temperature under the hood stable, preventing it from fluctuations with the drop or rise of outside temperatures. This regulation of temperature helps the engine oil maintain the optimal viscosity required for engine startup. An engine stored in ideal temperatures will continue to run smoothly for a longer time, extending the engine life.
Combats interior damage
When you park your car outside, it not only damages the exterior, the interior suffers also. This can result in the upholstery and dashboard fading. In extreme conditions, this can affect the music system, too, as the speaker's membrane could crack. Also, any fabric held together using glue can come apart in extreme heat conditions.
Does a House Lose Value Without a Garage?
This depends on where the house is located and what the client is looking for. Experts claim having a garage can raise the value of your home to 20%. Many prospective homeowners love the idea of having extra space to store their tools and protect their cars from unfavourable conditions.
The right garage door installation alone can be a huge deciding factor as to whether a house on the market gets sold or not. Lacking a garage might not exactly decrease the value of a house. It can just make it harder to sell.
A garage is an amazing point of interest for a realtor to show off to prospective clients. The absence of a garage results in the realtor having to work harder, showcasing other house areas that are often overlooked to get it sold.
What Are the Alternatives to a Garage?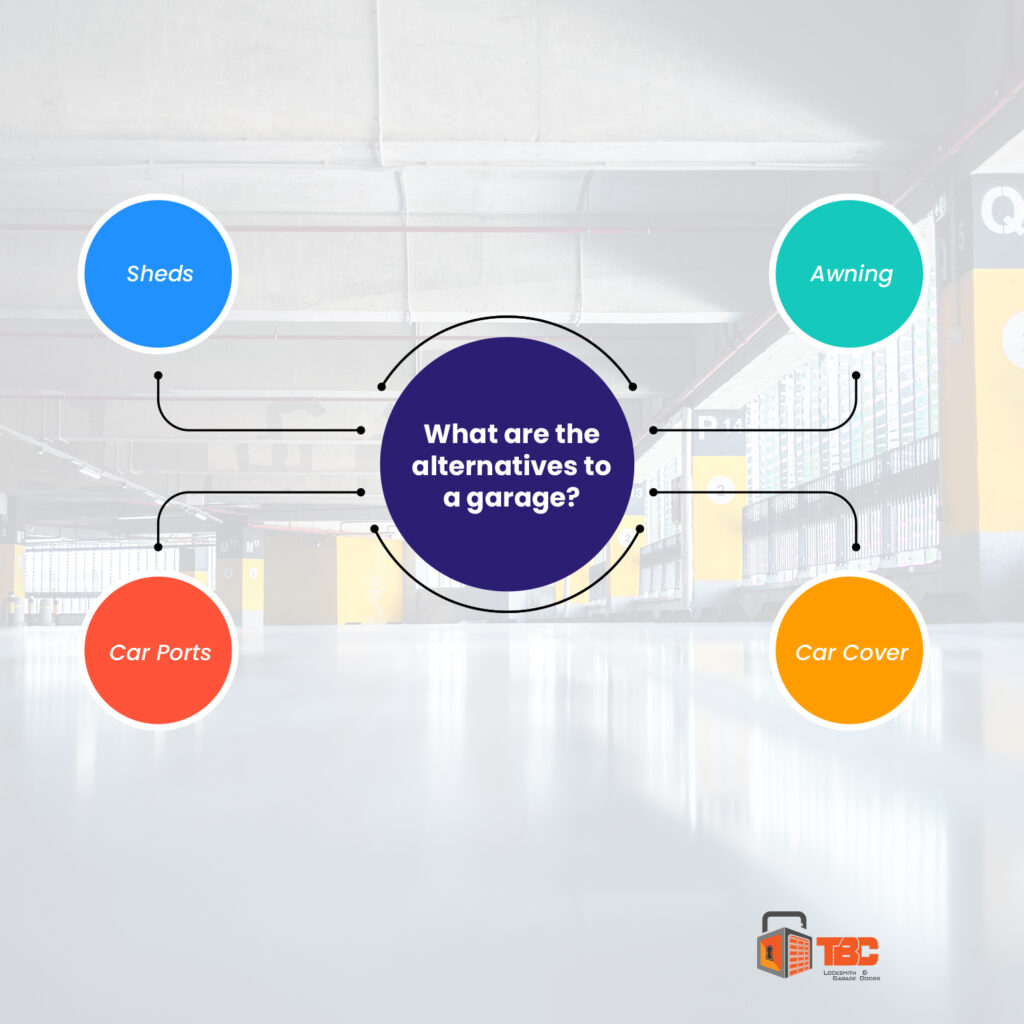 There are a few affordable alternatives to a garage. Some of these alternatives include:
Sheds
One common alternative to a garage is a shed. To most people, a shed is simply a place for storing tools and other small machinery. If you have a big enough shed, it can also double as a garage. The great thing about a shed is that it covers your vehicle completely, giving it all the protection it needs.
Car Ports
If your driveway is spacious enough, the next thing you should consider is a carport. Even though a carport is not completely enclosed, it can still protect your car from UV rays, rain and snow. There are also carports large enough to shade multiple vehicles.
Awning
Awnings are similar to a carport, and the only difference is how portable it is. They are easy to install and provide adequate protection. The awning also has other uses besides being used as a garage alternative. Due to how portable they are, they can create shade during the summer in your backyard.
Car Cover
If you are really on a budget or need to manage your resources, there are still options other than building a garage. A car cover is an inexpensive garage alternative. Car covers come in various styles and sizes and can protect your vehicle from harsh weather elements.
Conclusion
When you have a garage door expert, garage door installation comes easy. If you need professional assistance for your garage door Toronto, you can contact TCB Doors.
We are a reputable company specializing in garage door maintenance near me, door opener maintenance, torsion spring maintenance, etc.
Some of our services include garage door framing, garage door spring installation, garage door opener belt installation/repair, among many others.
All our technologies are insured and licensed. We also offer affordable pricing with a 90-day guarantee. We offer emergency services and are available 24/7.