Garage door installation is serious business. It is not the time to attempt a DIY or follow a YouTube tutorial to save a few dollars. For your garage door to be properly functional, it needs to be correctly installed. This is why your best bet is to hire a garage door professional Toronto.
Garage doors can be dangerous if you have no idea what you are doing. Garage doors can be very dangerous if not done properly. This is why hiring professionals is your best bet.
This article discovers why you should hire an expert to install your garage door and everything else you need to know.
Why Should an Expert Install Your Garage Door?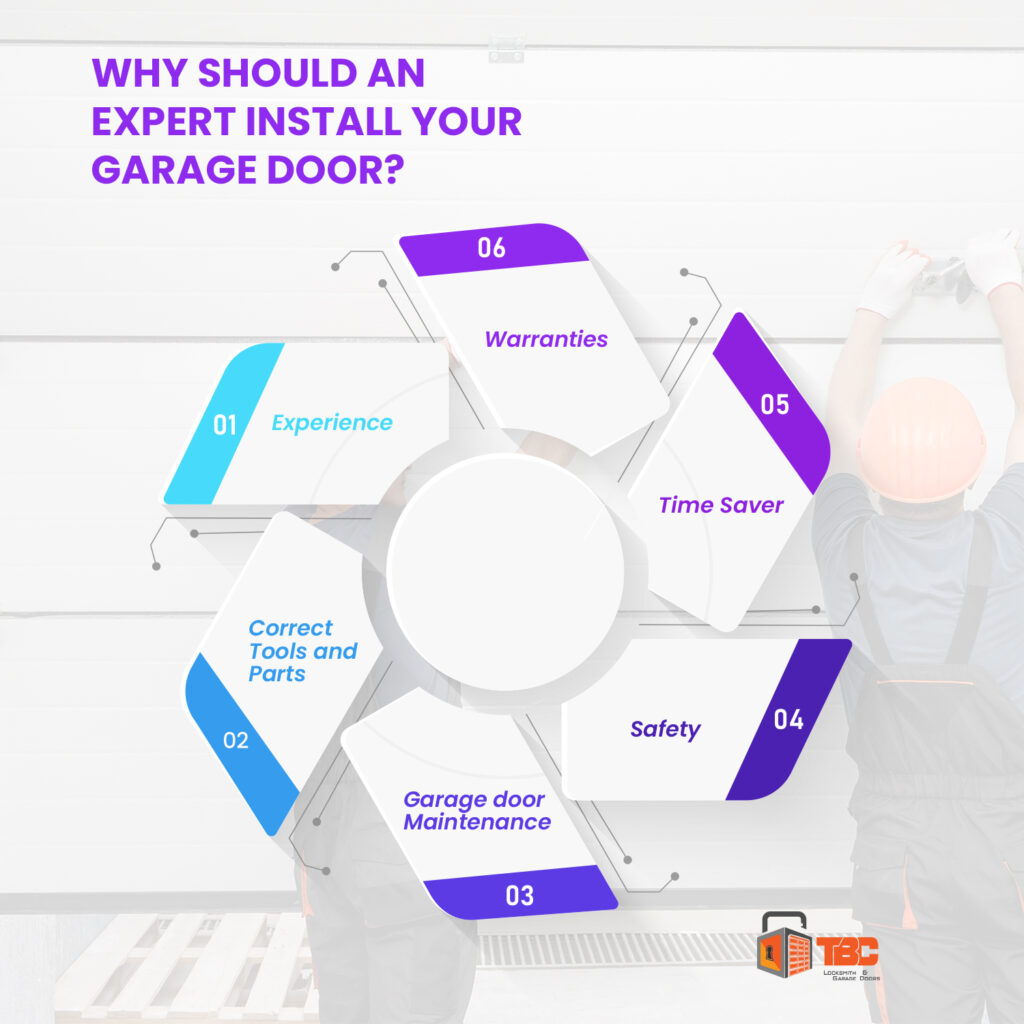 Experience
Watching a garage door installation can make the process look easy. However, this is not the case. Most times, the instruction videos are made by experts who have several years of experience and make it look easy. Without any experience, garage door installation can be quite dangerous and challenging.
A garage door professional Toronto is highly trained and equipped with the necessary tools and skills required to execute the job. A garage door expert will not only ensure that the door is installed correctly but will save you a lot of frustration and time.
Correct Tools and Parts
When you contact a professional to install your garage door Toronto, you can be assured that they will have all the necessary tools. A garage door professional Toronto will come with the right garage door opener and other parts required based on the weight and size. You can avoid the hassle of changing it later to work correctly with your door.
Garage door experts will come with all the required tools for your installation, meaning that they will be done correctly and quickly, allowing your door to function correctly.
Several intricate parts work to ensure that your garage door installation is done properly to allow it to function flawlessly. These details include proper wiring, correct alignment of the photo eye, proper securing of the door opener, proper wiring, and correctly installed springs, pulleys, and cables. The weight of the garage door also needs to be appropriately balanced.
Garage Door Maintenance
Garage door installation goes way beyond just getting it installed. Indeed, Garage door maintenance and other safety checks are necessary for your garage door. When a garage door professional installs your garage door, you are dealing with a familiar contractor with your family, house, and job. Instead of finding a repair person every time something goes wrong, you already have a professional ready and waiting.
Safety
With garage door installation comes several safety concerns. This is even more relevant when dealing with garage door springs. Aside from the springs, garage doors tend to be large, heavy, and awkward, making them difficult to manipulate and dangerous.
In addition to the garage door, the garage door opener required electricity to function and install. Working with electricity requires a certain level of training to work safely. After installation, the professionals will check that all safety measures function properly by testing the door.
Time Saver
When you hire an expert at garage door installation, you save yourself a lot of time. Garage door experts have a lot of experience in garage door installation of commercial and residential doors. This makes it easy for them to install any type of garage door perfectly in little time. Hiring a garage door professional Toronto will save you the time you would have assembled and installed the garage door.
Warranties
The nice thing about garage doors is that most come with a warranty; however, there is a catch. For the warranty to be valid, the door must be installed by a professional. If you attempt to install or repair the door yourself, chances are you will void the warranty. Don't risk losing your warranty by trying to do the work yourself.
How to Find the Right Garage Door Expert?
A garage door, whether commercial or residential, is considered a long-term investment. It is very important, therefore, to have your garage door correctly installed.
Although some people may choose to install their garage doors on their own to save money, the best option is to call an expert as it saves you time, assures you of expert service, and gives you the option of customization. However, to enjoy the benefits of a garage door professional Toronto, you need to choose reliable experts.
You should ask for recommendations from family and friends. Find out from those who have previously installed commercial or residential garage doors – they should offer valuable information.
You can also carry out an online search to find out the best professionals at garage door installation in your area. Check out client reviews on different companies can avoid any negative reviews from previous clients.
You should make a list of potential experts from your search and contact them for further assessment. The most important thing to check for with your potential garage door installer is their experience in the field. Make sure that the expert you chose is experienced in the sort of garage door you are interested in installing; ensure that the professional you hire is insured and licensed for commercial or residential installation.
How Much Does a Garage Door Installation Cost?
Garage door installation costs vary depending on factors such as:
The style and type of garage door you purchase
Whether you need to reframe the exterior or resize the doorway
Whether you need to replace or repair the hardware that allows the door to close and open smoothly
On average, homeowners can spend between $400 to $10,000 to install garage doors. If your budget is on the low end, you can purchase a non-insulated steel garage door without installation for $400. You can purchase a custom garage door with glass windows and an automatic garage door opener for around $4,500 with installation on the high side.
Garage doors can have multiple layers with insulation inside or single-layered. Multiple layered doors are more expensive to purchase and install but provide more insulation and last longer. Single-layer garage doors are a lot cheaper but offer the least insulation and are the least durable.
Insulation is a key consideration when choosing your garage door depending on your climate and location variables. If you have a detached garage, you may not have to worry about insulation. However, if your garage door is attached to your home, a properly insulated garage door can save you money by cutting down energy costs.
What about the garage door material?
Another factor that can greatly impact the overall cost of a garage door is the material it is made of. Less expensive options such as vinyl, dent-resistant, and wood composite can be painted, which can cost between $900 to $3,500. However, there are high-end wood composite doors that can set you back up to $10,000. Steel doors are the cheapest option even though they dent easily and require the most insulation to regulate the temperature inside a garage. You can get a steel garage door installed for as little as $600.
More expensive materials such as hemlock, cedar, redwood, or mahogany are usually custom made. A high-end, single, fully loaded ten-wooden-foot wide wood garage door can set you back up to $10,000.
Fully loaded doors often have features such as shatterproof glass, windows, panels and trims, and multiple colors. More expensive styles often include French doors, carriage doors, and walk-through doors, while tilt-ups and roll-ups typically cost less.
How Long Does it Take a Professional to Install a Garage Door?
In most instances, a new garage door can be installed by a professional in one day. Some factors that can help in determining how long garage door installation takes include:
If there is a difference in the size of your new door and your current garage door
If the existing garage door brackets and wiring can be used and if the brackets are in good condition
Weather conditions on the installation day
Whether or not a new build is required – this can take about 3 hours or less depending on the experts
Conclusion
If you reside in Toronto or the GTA and search for the best, most knowledgeable garage door experts, check out TBC Garage Doors.
We are a reputable company that provides professional garage door installation, replacement, and repair. We also offer emergency services, and our specialized team is available whenever you need help.
Some of our services include new garage door installation, garage door spring installation/repair, garage door sensor repair/set up, garage door opener belt installation/repair. Garage door framing, among many others. We also handle different doors, from sectional, roll up and side hinged garage doors to up and over/tilt-up canopy garage doors.
Our services are comprehensive, and all our staff is highly trained, using only the best equipment and tools available.
We are also available for emergency garage door repair services, and with us, you get a 90-day guaranty for services offered. Contact us today for a premium garage door repair/servicing experience.