A broken garage door can easily become a hazard. If you discover your garage door has a problem, using it before it is repaired can be dangerous. Your garage door can become run-down as a result of extreme weather, age or other physical elements. If your garage door starts to show resistance when closing or opening or becomes stuck, try to find out the problem before you attempt using it again.
Repairing a broken garage door is very risky and should only be done by professionals. In this article, discover all you need to know about broken garage doors.
What Can Cause Damage to Your Garage Door?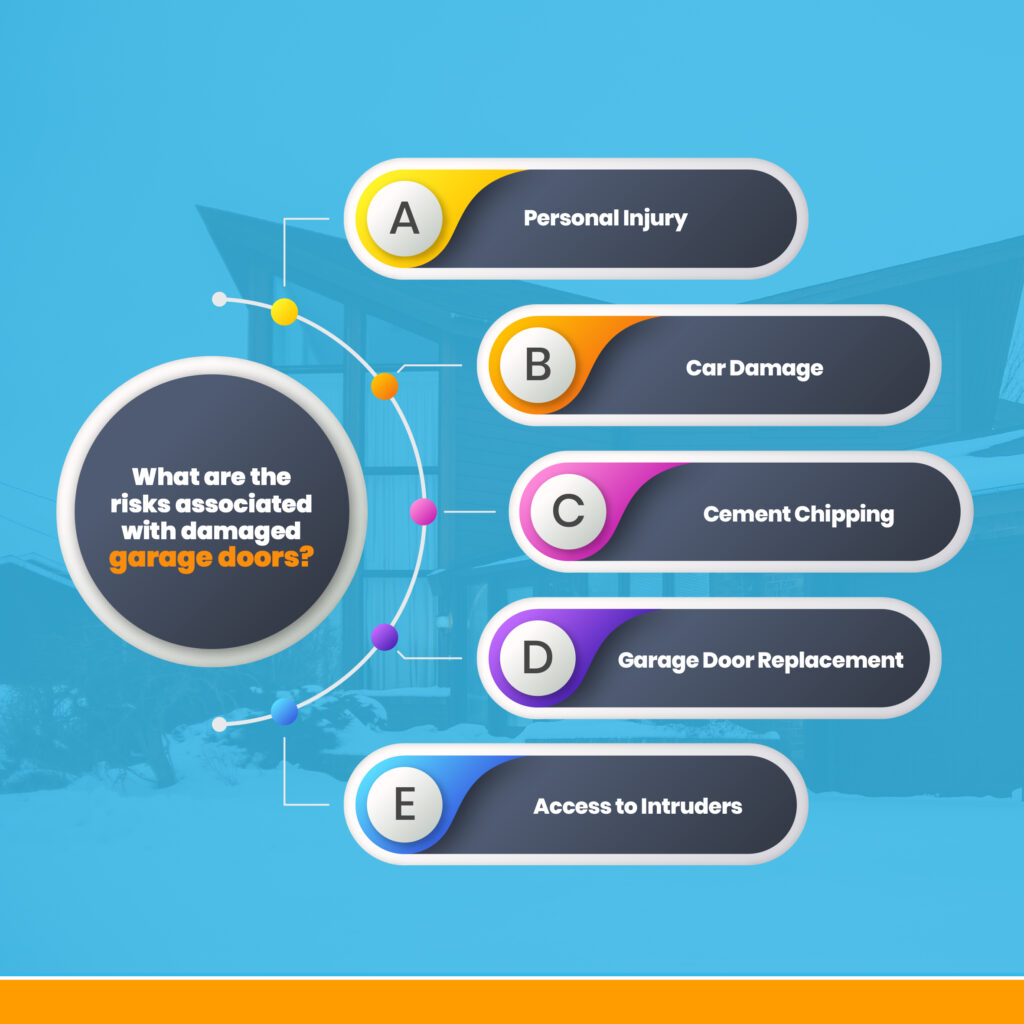 Most garage door owners are surprised to find out how many different parts constitute a garage door. If any of your garage door parts get worn out or stops working properly, it can damage your garage door, causing it to break down.
When you are familiar with the parts of your garage door, you can easily carry out routine maintenance and properly inspect the garage door to ensure a longer span. Here are some of the most common causes of garage door damage for you to look out for:
Broken Cables
Garage door cables help lift and lower your garage door. After being in repeated close-open cycles, they can become damaged or break. With age, these cables can also become brittle, causing them to snap.
It would help if you regularly inspected the cables for any signs of decay or damage. If you observe any damage, immediately contact a garage door expert to replace the cables before it spirals into an even bigger problem.
Broken Garage Springs
Your garage door springs bear a lot of pressure over time. The pressure they are put under is so much it can cause your garage door springs to snap and break. Once your garage door springs are broken, your garage door will no longer function properly.
If you're lucky to be present, you can hear the garage door spring snap and break and even fall off your garage door. However, if you are not present, you need to inspect your springs to ensure they are still intact regularly. Check the area surrounding the garage door to take note of any broken springs on the ground. To replace your broken garage door spring, simply contact a garage door expert Toronto.
Worn Rollers
The rollers on your garage door help it glide smoothly up and down the track. If your rollers become worn, they may prevent your door from opening easily. Depending on the severity of the damage, the door can move in a jerky motion or become stuck, damaging other parts.
Detecting worn rollers is a lot easier for trained professionals, but it might be a roller problem if you notice difficulty in closing or opening your door. Contact your garage door company to check your rollers and determine the cause of your problem.
Worn Hardware
The hardware on your garage door, such as bolts, hinges and so on, can become rusty, making it difficult for your garage door to operate properly. Most times, all you need to do is check the hardware, apply oil-based lubricant to ensure everything glides smoothly while tightening anything loose.
If you notice your garage door closing or opening with difficulty, worn hardware may be the reason. Contact your garage door expert Toronto for inspection or necessary repair.
Misaligned Track
Due to excessive movement, your garage door can move out of place, causing it to become misaligned. A misaligned track will only worsen with time, leading to more damage as the tack continues to move out of place.
Although routine maintenance can prevent some of these garage door problems, age will always catch up with your garage door. The best thing is to remain observant so you can tell when your garage door needs a replacement or repair. This vigilance will help you nip whatever problems your door might have in the bud.
What Are The Risks Associated With Damaged Garage Doors?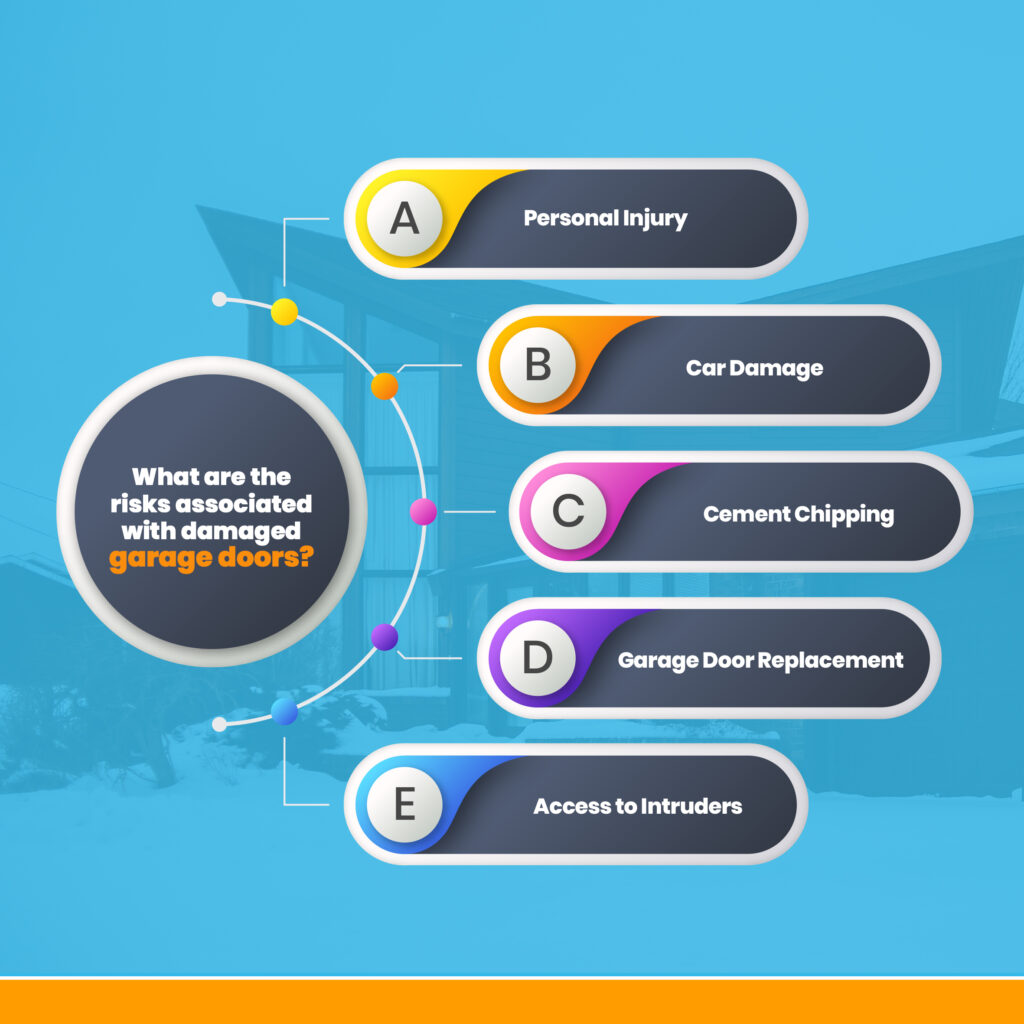 If any of the garage door parts need repair, garage door repair should not be delayed. Even though a garage door provides a lot of utility, it can cause some gruesome accidents.
Personal Injury
Weak or broken torsion springs and cables can result in serious injury and even death. Your garage door may close with too much force suddenly if any of these components are faulty. If you think your garage door is closing too quickly, avoid speculations and contact a garage door expert Toronto. Seeking professional help is always a better option than encountering unanticipated events.
Car Damage
Your garage door can shut suddenly if the cable is broken. This damage can cause your garage door to come crashing down on a car while on its way out of or into a garage. Garage doors are very heavy, and the impact they will have when it comes crashing down on a car can result in major damage. It is best to get the garage door repaired before any incident occurs, costing you a fortune.
Cement Chipping
If your garage door is faulty, it can come down with a lot of force. An average garage door weighs about 500 pounds, meaning its impact on the floor may result in cement chipping or even more serious damage requiring repair.
Garage Door Replacement
If you do not replace your faulty garage door on time, it can result in damage to the door itself. At times, the damage caused might be beyond repair, making a replacement necessary. Garage doors are costly, and getting a garage door expert Toronto to fix your door early can save you from incurring extra costs.
Access to Intruders
A fault garage door may not close fully or properly. This means that an intruder can easily gain access to your home. When you do not get your garage door fixed on time, you put yourself and your family members at risk.
Is a Broken Garage Door Considered a Fire Hazard?
A broken garage door can lead to several problems. Although you might not know it, your damaged garage door can be a big fire hazard. When your garage door is broken, it limits accessibility, making it difficult for you to go in and out of your garage.
In the event of a fire breaking out in your garage, you need to be able to get in as soon as possible to control the fire. A broken garage door can prevent this, causing the fire to spread beyond control.
There might also be instances where you need to get out of the garage as fast as you can. A broken garage door can trap you inside your garage, resulting in severe injuries or even fatalities.
It would help if you got your broken garage door fixed as soon as possible to prevent any tragic occurrences. Contact a garage door expert Toronto and just to be double sure, you should have a fire extinguisher in your garage, as well as a smoke alarm.
Is It Safe to Repair a Garage Door Yourself?
Attempting to repair a garage door yourself isn't always a good idea. Garage doors can be tricky to deal with and can quickly become a problem if you do not know what you are doing.
Garage doors can be lethal to anyone with no experience when it comes to their repair. The garage door can fall on you, trap your fingers, or a spring mechanism can even fly at you due to tension. It is really easy to cause injuries to yourself or a family member if you're not a garage door expert. However, if you have the necessary knowledge, repairing a garage door yourself can save you a reasonable amount of money.
Can a Garage Door Kill You?
Not all garage doors are dangerous enough to kill someone. However, if a hefty overhead garage door falls on you due to wrong force adjustment or a broken torsion spring, it can cause serious injury or even result in death.
Also, if your garage door is old, avoid using lead-based paint on it. Lead-based paint can be dangerous in certain situations, leading to death.
Your garage door is a piece of equipment that requires regular maintenance and attention to function properly without any problems. The lack of inspection from most homeowners leads to the catastrophe, which a broken garage door can cause.
Conclusion
If you live in Toronto or the GTA and you need the services of a garage door expery, check out TBC Garage Doors Garage Doors. We are a trustworthy company that offers professional garage door weatherstripping, installation, repair, and replacement.
We also provide emergency services with a specialized team that is available to you whenever you need their attention. Our services include garage door weatherstripping, garage door sealing, garage door opener belt installation, and so on.